Slimming down isn't just for the gym anymore: it's happening in restaurant menus as well. Rising food and labor costs, ingredient shortages and delivery issues are spurring both local and national eateries to reduce the number of menu items. According to a December 2021 Forbes article, Datassential (a food-industry market-research firm) found that 60% of the 4,800 menus it surveyed had reduced their menus in 2021.
Even chain restaurants known for multi-page menus have scaled back. A 2020 article in Restaurantbusinessonline.com named Applebee's, Olive Garden, and Cracker Barrel as examples.
The trend has hit home locally. Monica Rogers of Six Sisters Deli in Eagle Mountain has cut her menu three times since March 2020. The first cut happened when dine-in shut down due to Covid, and food vendor deliveries were cut in half. The restaurant had been in business about five years, and luckily, had just begun offering curbside and online ordering.
"We went to our top five sellers, wings, and kid's meals. We were able to shift seamlessly to 100 percent online, curbside and delivery," Rogers said. "We were busier than ever before." Instead of complaining about the lack of choice, "Customers were great! They were grateful we were still open and able to serve them," Rogers said.
Later, she put the full menu back in place. But when food prices skyrocketed, "We cut it back again. And we cut again this January. We did a cost card on every item, and cut the worst performers and no-profit items." Salads didn't make the cut. "But we may bring them back in the summer, if we can make it make sense," Rogers said.
Six Sisters' two best-selling items are the bacon cheeseburger (pictured top), and the Desperado — a grilled sandwich of sliced deli chicken, provolone, bacon and tomato with may on an artisan asiago cheese bun.      Her tips for menu-cutting: "Don't get attached to a menu that is not profitable. Do a cost card for every item. Make changes confidently. Your customers will shift."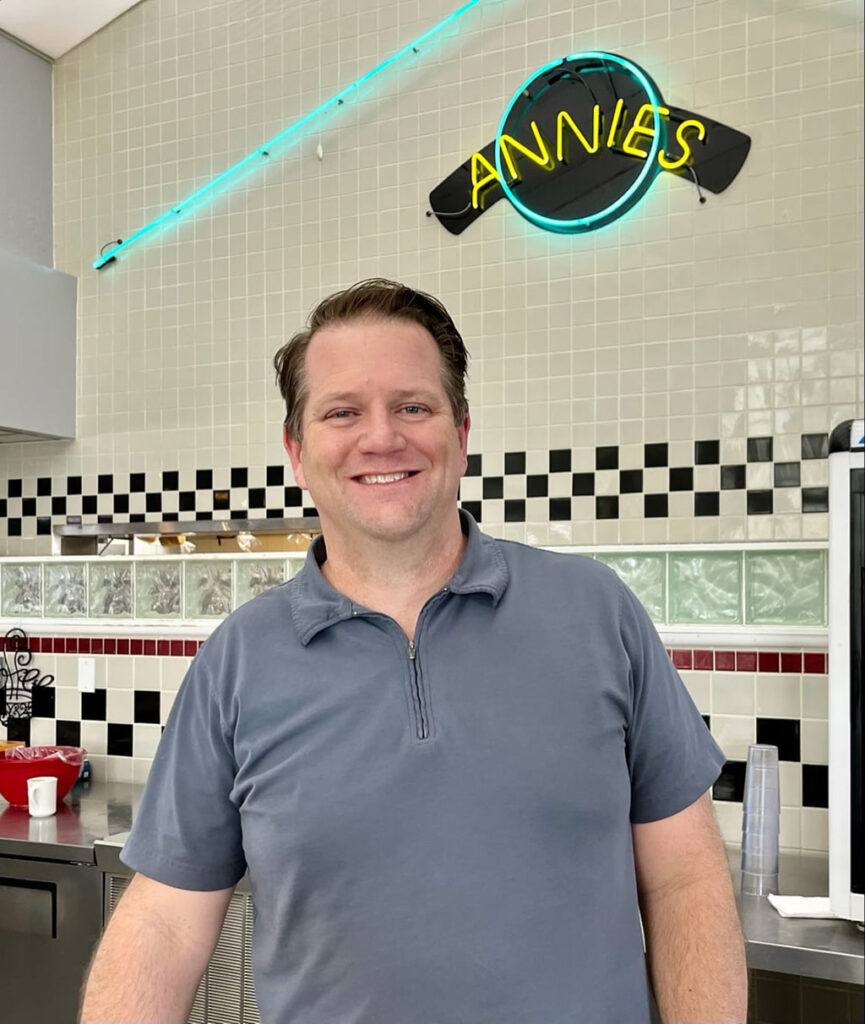 When Jason Sanders bought Granny Annie's in Kaysville and renamed it Annie's Diner last year, he knew its loyals customers didn't want any changes to the 19-year-old restaurant. But when new management recently came on board (Tony and Lexi Jacobson, also involved in Sweet Lake Biscuits and Limeade restaurants), it was time to simplify the menu.
"Hiring is a big deal right now, and we've had people who started and then quit a couple days later because our menu is so complex, especially when you make everything from scratch," Sanders said.
Many menu items were named for long-time customers who ordered it on a regular basis. Such as Ned's Breakfast – hash browns, eggs and a choice of breakfast meat. Or LaRae's Breakfast — three strips of bacon and sausage gravy on hash. It's part of Annie's charm, but it's challenging for new cooks to figure out what a Kathy and Shawn's Sandwich or a Donnie's Omelet entails.
So although Annie's will serve the same items it's always been known for, some of those quirky names will be discontinued, "in order to speed up the ordering and cooking processes," Sanders said. Also, liver and onions will disappear after April 1. Sanders expects an earful from long-time patrons. But even after limiting it to a Wednesdays-only special, "We still had more leftovers than we sold. Liver isn't something that can keep, so there's a lot of waste involved." But on the plus side, the restaurant hired a baker, and is adding raspberry and orange rolls and other baked goods.
Sydney's in Mantua recently simplified its menu after executive chef Ted Mathesius took a position as a territorial manager with U.S. Foods. While remaining as a consultant, Mathesius, along with manager Denise Hardy and chefs Travis Alden, Paul Vigil, and Gabby Milligan omitted a few items that were labor intensive, costly or not ordered much. The nachos appetizer got booted.
"People don't realize what it takes to make it all fresh from scratch — the beans, the chips, the guac, the pico," said Mathesius. "Then you get a Karen who orders something like 'Nachos, not as big as usual, half with pico, no sour cream, half brisket and half pork,' and it's like you've got to read a novel to do all that for one order of nachos."
Halibut fish tacos were also cut, "Because halibut is so crazy expensive, and it took a lot of time to beer-batter these little pieces of fish." The options for the lunch half-sandwich/salad special were pared down to the three most popular choices, "So cooks aren't spending so much of their time making a half a club sandwich."
They downsized from three different steaks to one New York steak, while permanently adding chicken-fried steak. They also dropped the build-your-own pizza option. "Now we don't have to keep sausage or pepperoni and four quarts of black olives sitting around."
They kept their signature house-made onion rings, even though the pastry chef, Gabby Milligan, spends about 60 percent of her time making about 50 pounds of onion rings each week. "We can't take those away, because I know how hard it is to get onion rings," Mathesius said.
They also took some "non-movers" off the menu, "and I don't think anyone will notice — but maybe now they will when they read this." His advice to restaurateurs thinking about streamlining their menus, "Reach out to your resources, your food service professionals and territory manager (of which Mathesius is now one for U.S. Foods). We have all the tools to help you figure out a more profitable menu, when you're too busy to do it by yourself."
****
"Keeping things simple is a trend of sorts now," noted executive chef David Jones of Log Haven. After the Covid shut-down, Log Haven started out with a limited menu, then expanded and stayed consistent in size. But, since some ingredients are scarce, some preparations have changed.
"There is a large void in what has been offered to us on a wholesale level, so we have to adjust," Jones said. "The proteins have been stable, but I have switched up the ingredients in the dishes." Using limited-time specials is one way to keep the menu flexible.  "If I get an opportunity to special something that comes back in at a better price point or quality, I will do a special," Jones said.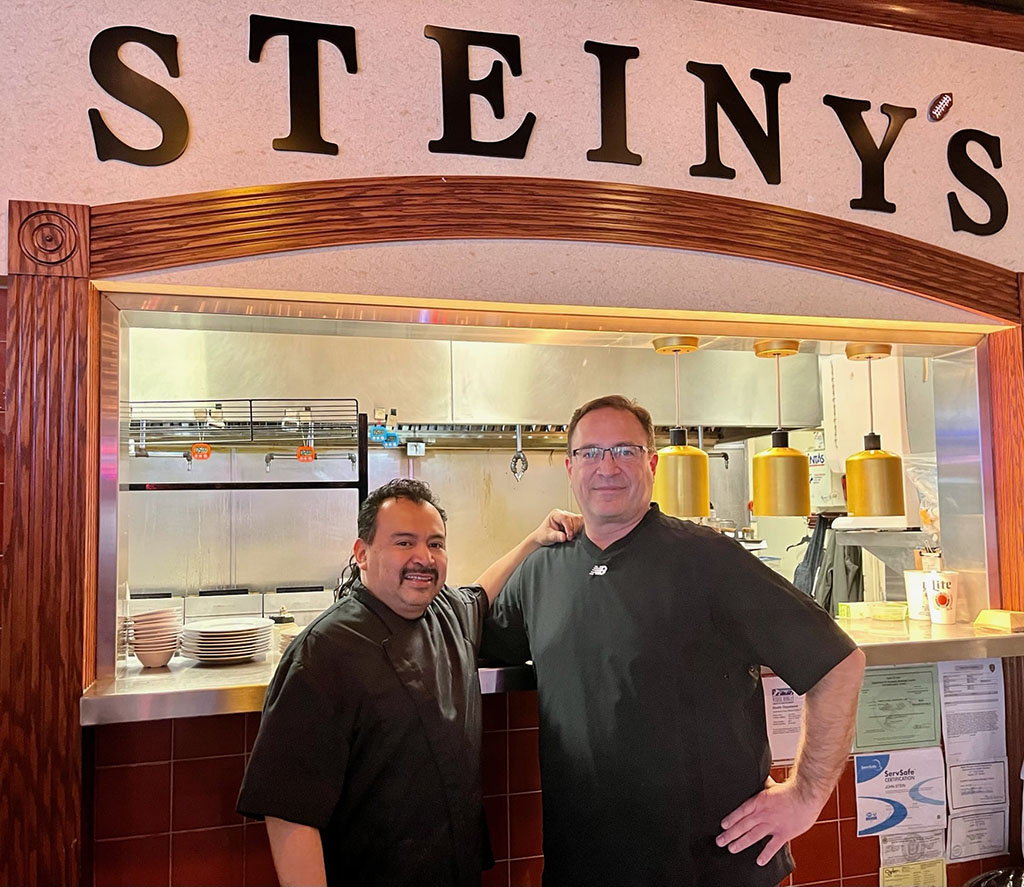 John Stein of Steiny's Family Sports Grill's south location in Ogden is considering paring down the menu this summer, when his outdoor patio increases the occupancy by about 50 percent. "We do our best, but we're understaffed," he said. "Without the proper amount of cooks and servers, you can't cook our whole menu for that many people. So we've kicked around the idea of a smaller summer menu to keep the best things we have, based on sales. My own favorite dishes at Steiny's may not be on that menu."
Steiny's already has a following with its Taco Tuesdays and Wing Wednesdays. On weekends, chef Gabriel Perez offers specials that go beyond the usual wings and burgers, such as Chicken Fusilli Pasta; Shrimp Boil, Smothered Chili Verde Burrito, Curry Salmon Rice Bowls, Lump Crab Enchiladas, Grilled Lamb Chops, Chicken Parmigiana Ravioli, and Jumbo Prawn Mac 'n' Cheese.
If he does downsize the summer menu, Stein would offer more specials to keep things interesting for customers.   Brothers John and Joey Stein opened their first Steiny's in Business Depot Ogden in 2010. They opened the south location at 1104 Country Hills Drive in 2015, and a Logan spot in 2017. When the Covid pandemic hit, they closed the Logan store to focus on the Ogden businesses.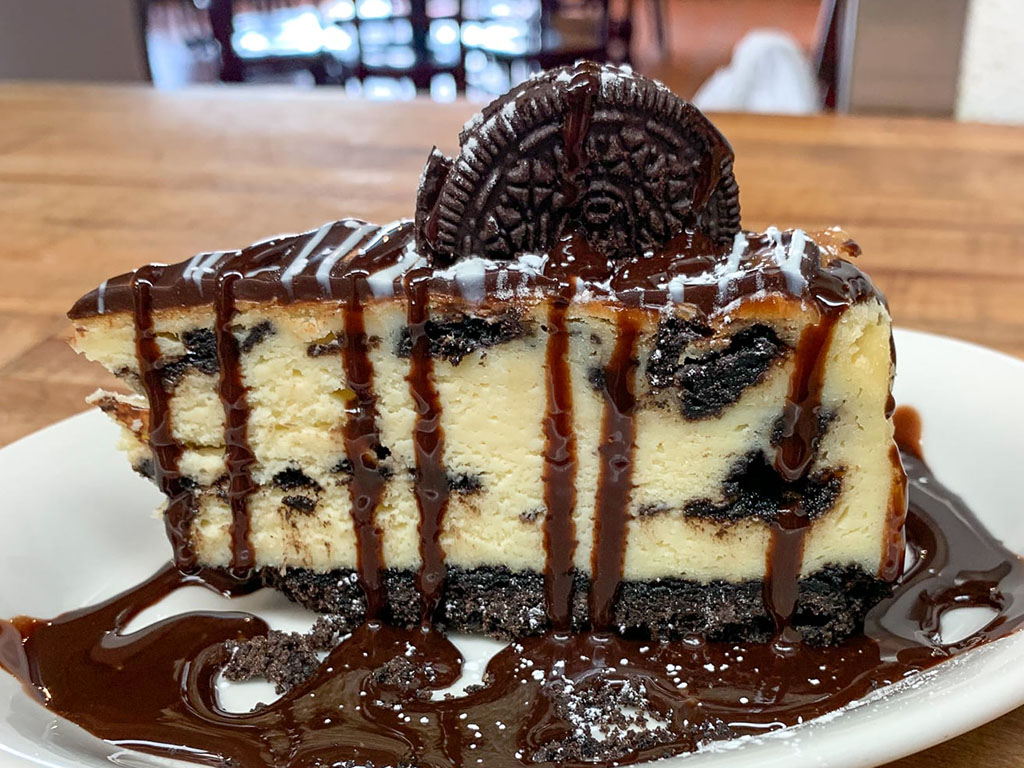 One restaurant that is bucking the tide and actually beefing up its menu is Tin Roof Grill in Sandy. Re-opened in early February, the new ownership originally wanted to slim it down. But social media told them otherwise. One Facebook post asking people to name their menu favorites got 235 comments.
"After getting to know our guests and seeing how passionate they were about the brand, we decided to keep everything the same," said general manager Stu Brown. "As people have seen that we are open again, the number one call we get is 'is it the SAME menu?' immediately followed by 'Oh good!.' "
The restaurant is even adding brunch Monday through Friday from 8-11 a.m. He said that overall, guests have been positive, although it's been a pretty steep learning curve to recreate someone else's menu and keep the product consistent. Top sellers are the whole-fillet haddock fish and chips and the luxurious cheesecakes.
"One of the items featured on "Diners, Drive-ins and Dives" was our croquettes," Brown said. "We still have guests travel from all over the country to come in and have them!" He added, "We realize that there's a history here we need to remember, and hope the few changes we have made will give the Tin Roof Grill the legs for the next 15 years of its life."
Keep the conversation going
Want to stay on top of the SLC food scene, minute by minute, dish by dish? Here are a few other places you should follow along:
Valerie Phillips is an award-winning food writer and photographer at Chewandchat.com, and author of the cookbook, "Soup's On!" She holds a Bachelor's degree in communication from Utah State University, and honed her culinary savvy through international travels and visits to America's Test Kitchens, the New Orleans Cooking School, Betty Crocker Kitchens, Kansas City Barbecue Society and Johnson & Wales' culinary program. She has taught cooking at the Salt Lake Culinary Center, the Utah State Fair and the Love To Cook store, and appeared on  on "Good Things Utah," "Studio 5," "KUTV Noon News," "KSL Morning News" and "The Daily Dish."
She has judged contests from the World Championship Dutch Oven Cook-Off to the Edible Chair competition to the 4-H Green Food contest, and loved almost every minute of them.
This article may contain content provided by one of our paid partners. These are some of the best businesses in Utah. For a list of all our current and past relationships see our
partnership history page
.