Restaurant menus are created for customers, but they also reflect the tastes of their creators. We asked a few restaurateurs and chefs: "What's your favorite go-to dish on your menu?" You know, the one they could — and maybe do — eat every day? It's not always the top-selling dish with customers, but there are reasons it's so beloved. Pay attention here — you may find a new favorite of your own.
Jaimie Buehler, co-owner of Table Twenty Five in Ogden, goes for Mussels & Frites, a dish that she fell in love with while working in European restaurants. It starts with Prince Edward Island mussels sitting with chorizo and cherry tomatoes in a pool of savory broth. They're topped with crispy house-made French fries.
"That dish is just so nostalgic for me, and the Spanish flavors with the fresh tomato and the spicy chorizo just make me want the dish to never end," she said.
She said her husband Justin Buehler's go-to is Beef Stroganoff. "House-made pasta and the beef is so tender — it's a comfort dish that he loves!"
The two spent seven years working at the Copper Onion and Copper Common in Salt Lake City before launching Table Twenty Five, on Ogden's Historic 25th Street last summer. 
"Greek Your Way" is the mantra of Santorini's Greek Grill, with locations in Sandy, Bountiful and Farmington. And owner Sean Dehghani's "way" is a bowl with lemon chicken, lemon rice, Greek salad mix, and garlic-parsley vinaigrette. He likes the zesty flavor of the chicken and rice, and the crunch of Greek salad mix — freshly chopped cucumbers, onions, tomatoes, spices, a splash of olive oil, and lemon juice.
The bowl is usually topped off with feta, kalamata olives and tzatziki sauce, but Dehghani often leaves those items off, "And just add a splash of our garlic parsley vinaigrette, one of my favorite sauces," he said. "It's 'Greek your way;' you can do that here!"
Dehghani worked at the Sbarro's pizza chain and CousCous Grill, and ran his own Greek restaurant before coming up with the Santorini fast-casual concept.
"We definitely don't claim to be traditional Greek," Dehghani said. "This is a modern take on Mediterranean flavors and not-so-Mediterranean flavors."
Stein Eriksen Lodge's corporate chef Zane Holmquist has two personal favorites. First, Norwegian Potato & Bacon Pancake with Poached eggs, Jarlsberg cheese sauce and cranberries.
"This is a dish that I have been making for years and one of the first things I put on the menu here," Holmquist said. "With the poached eggs and the richness of the Jarlsberg cheese, the tart and sweet cranberries lightens up the dish. It's garnished with green onions, which add a crisp bite. It's a good hearty breakfast to enjoy before a cold day of skiing."
His second favorite is Swedish Meatballs & Mashers with lingonberry jam, which is on the apres ski/bike menu. "It's a dish from my childhood and is actually my grandmother's recipe," he said. "She always made them holidays, family events, birthdays, and it always take me back to those days. Mashed potatoes, gravy and meatballs have to be one of the most comforting dishes to eat. It would not be Swedish without the lingonberry jam which is also the key to the amazing flavor."
At Stein Eriksen Lodge in Park City, Holmquist oversees five restaurants, nine kitchens and 200 staff members. He's known for his annual New Year's Eve appearances on NBC's TODAY Show.
Although Das Schnitzel (breaded pork schnitzel) is the top-seller at Weller's Bistro in Layton, chef/owner Jan Weller's personal favorite is the goulash. When Weller was growing up in Germany, his grandfather used to make this hearty stew of braised beef chunks. At the bistro, it's served with sauerkraut and spatzle.
"It is my Grandpa's recipe and I am happy every time I see one leaving the kitchen window," he said. "It's near and dear to my heart, and brings back a lot of memories."
Weller cooked at fine dining restaurants in Germany and the Savoy Hotel in London before coming to Utah. In Park City, he worked at Park City's Goldener Hirsch Inn  High West Distillery, and two fine dining Promontory Club restaurants. Wanting to open his own restaurant, he found the right building when Layton's beloved Gabor Brothers closed its doors. After extensive remodeling, Weller's Bistro opened in 2019.  
Nicole Carver, so-owner of Tonyburgers (outlets in downtown SLC, Centerville, Clinton, Holladay, South Jordan, West Valley and Herriman) loves her restaurant's Tony's Southern burger. It gets a spicy kick from jalapenos and pepper jack cheese. It also has ranch dressing, BBQ sauce, and onion strings.
"It is addictive to me," she said. "The crunch of the onion rings, the spice of jalapeños and the combination of ranch/BBQ sauce is magic!' That's also one of the top-selling burgers of the Utah restaurant group, which Chris and Nicole Carver first opened in 2009.
Chris Carver's favorite is the Ol' Reliable, a classic burger, with American cheese, lettuce, tomato, fresh onions, pickles and Tony Sauce (similar to fry sauce). "He loves it because he can taste the blend of our meat with the cheese," said Nicole Carver. "It is comfort food.'
Chris named the burger after his dad's fishing lure, called "Ol' Reliable" because he could always catch a fish with it. "He passed away right before we opened, so I gave a shout out to him," said Chris. "It's the classic burger that you can rely on."
For chef Jay Tyler of the Lovin' Cup Café in Huntsville, the K.B. Burrito is his go-to favorite. "It's the one-handed multi-tasker," Tyler said of the giant flour tortilla filled with scrambled eggs, peppers, onions, Cajun potatoes (breakfast potatoes with Cajun seasoning), cheddar and jack cheese. All for $9.95, and you can add bacon or sauage for $2.50.
What does KB stand for? "Killer Breakfast burrito!" Tyler grew up outside of Boston, found his way to Utah after working in Australia, New Zealand and Idaho. He spent 20 years cooking in Ogden restaurants, including Roosters and Jeremiah's, and ran a catering business before opening the Lovin' Cup Café last year. It's next door to the Huntsville landmark, Shooting Star Saloon.
Amy and Vivi Wanderley-Britt of WB's Eatery in Ogden and Pig and A Jelly Jar (Ogden, Holladay, Salt Lake City) have definite favorites.
At WB's Eatery, Amy's favorite is the brussels sprout tostada — shaved, pan-fried brussels sprouts, cotija cheese, pickle red onions, paprika and lemon crema, served on tortillas. "They are so good, I can't not eat them!" she said. "The idea was inspired by our Tulum (Mexico) trip."
Vivi's favorite is WB's Eatery's Chimichurri Steak — it's her mother's recipe with her sister's tomato vinaigrette, so there's a lot of family love in every bite. The flank steak is marinated and grilled, and served on a baguette, or on skewers as a shareable small plate.
Smoked pork is the go-to meal for Ted Mathesius, chef of Sydney's in Mantua. "For me, it's like meat candy," he said. The pork shows up in the Porky's Revenge, with slow-smoked pork shoulder, sweet-and-hot barbecue sauce, bell pepper slaw, white cheddar and pickled onions. And in the street taco appetizers.
But Mathesius doesn't bother with the trimmings when he's busy in the kitchen. "I'll just throw it on white bread and mayo, if I don't have time to add some cheese," he said. "The crew does a lot of different taco variations, because you can eat a taco really fast when you're working in the kitchen. Every chef will attest to that, you can eat a taco standing over a garbage can, wash your hands and get back to work, and that's your lunch!"
When he became Sydney's chef last year, he brought his smoker trailer with him, and smokes both pork and brisket over pecan wood. Mathesius was chef of two former Logan landmarks during their glory days — the Copper Mill and Hamilton's. He later became executive chef of corporate dining first for Adobe, Inc, and then for Vivint. After coming on board at Sydney's last spring, it quickly developed a reputation as an eatery with attitude.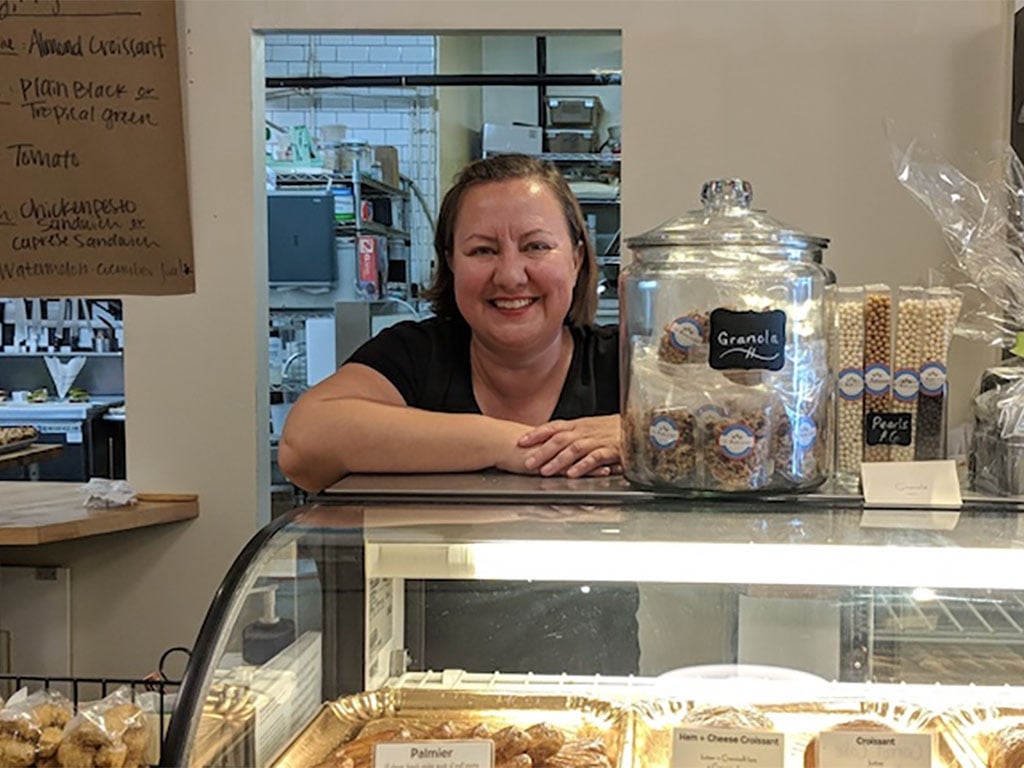 Although Romina Rasmussen of Les Madeleines is famous for her Kouign Amann pastry, that's not her personal go-to. "More than anything, it's a croissant, especially a pain au chocolat. It reminds me of when I was a kid and my mom would make me bread and chocolate sandwiches. I love the flakiness, the butter, and the dark chocolate. In addition to the chocolate batons, we put an oven-safe ganache in the middle so you get chocolate in every bite."
No surprise, then, that Les Madeleines in downtown Salt Lake City was recently named the best croissants in the state by EatThis.com.
Madeleines are Rasmussen's other favorite snack. After all, her bakery is named for these little cakes. Part of their appeal is the literary tie-in to French writer Marcel Proust, who wrote how the taste of a madeleine dipped in tea brought back childhood memories.
"Taste memories are big for me, so the idea that a simple madeleine could inspire 10,000 pages of prose is remarkable."
For Lefty Montoya, a partner of Wimpy and Fritz in Ogden, the go-to favorite is the smoked carnitas taco. Bragging rights here: the carnitas, made from smoked pork shoulder, won Best Taco at the 2019 SLC Taco Fest.
But Montoya builds his taco a little differently for himself than for customers at this self-proclaimed "Ogden Taco Cartel." "I don't put the pickled onions on it, and I put green salsa, and sprinkle a little salt on it. That's my snack."
Wimpy and Fritz partner Brian Zinsmann's favorite is the El Gordo Burrito, stuffed with a choice of meat— carne asada, smoked carnitas, pollo adobo, or al pastor — plus beans, onion, fresh guacamole, pico de gallo, cilantro and fideo, a small skinny pasta that Wimpy and Fritz uses as most Mexican restaurants use rice.
"It's stuffed with so much flavor with our use of different spices and flavor combos, and unique ingredients like fideo," Zinsmann said.
Zinsmann attended the Dubrille School of Culinary Arts in British Columbia. He and Montoya met while working at Gastronomy Inc., which owned Market Street Grill and Oyster Bars, Café Pierpont and The New Yorker at the time. They started selling tacos at the Ogden Farmer's Market, graduated to catering events, to sharing kitchen space with the Yes Hell Bar, and their own food truck. Finally last year they opened a brick-and-mortar location at 352 Park Blvd.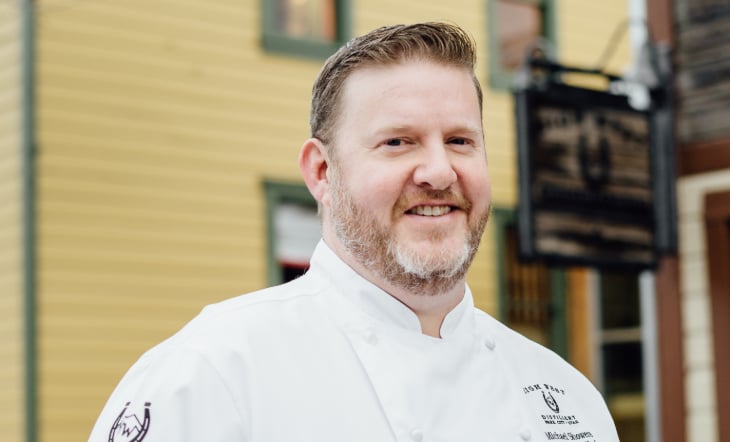 "Our chicken wings are outstanding!" said Michael Showers, executive chef for High West Distillery in Park City. "The latest version is a smoked jerk chicken wing, the brainchild of one of our sous chefs who is from Jamaica. It's first hit with a wet rub of jerk seasoning, then we let that brine for about 24 hours before they go to the smoker, and we go nice and low, as to not render off too much of the fat. After that they get tossed with rice flour and dropped into the fryer until they're crispy, and then we coat them with a jerk wing sauce that gives a nice little kick. But what I like to do is to leave off the wet sauce, and get both the sauce and blue cheese on the side. I dip the wing in the jerk sauce then in the blue cheese to make my custom combination, and the chicken wing is nice and crispy at the same time. It's kind of a chef's trick."
Also, "When I am hungry and I don't want a big meal, I will have a bowl of our Whiskey Gratinee — our version of a French onion soup. We make a very hearty broth with lots of bourbon and lots of onions, and top it with a couple crostinis and a very high-quality aged gruyere. Put that under the broiler until it is GBD —that's a chef code for golden brown and delicious. It's a crowd pleaser and a home run every single time… It's sweet, salty, cheesy, savory…. all of the good stuff all in one bowl."
Keep the conversation going
Want to stay on top of the SLC food scene, minute by minute, dish by dish? Here are a few other places you should follow along:
Valerie Phillips is an award-winning food writer and photographer at Chewandchat.com, and author of the cookbook, "Soup's On!" She holds a Bachelor's degree in communication from Utah State University, and honed her culinary savvy through international travels and visits to America's Test Kitchens, the New Orleans Cooking School, Betty Crocker Kitchens, Kansas City Barbecue Society and Johnson & Wales' culinary program. She has taught cooking at the Salt Lake Culinary Center, the Utah State Fair and the Love To Cook store, and appeared on  on "Good Things Utah," "Studio 5," "KUTV Noon News," "KSL Morning News" and "The Daily Dish."
She has judged contests from the World Championship Dutch Oven Cook-Off to the Edible Chair competition to the 4-H Green Food contest, and loved almost every minute of them.
This article may contain content provided by one of our paid partners. These are some of the best businesses in Utah. For a list of all our current and past relationships see our
partnership history page
.