The recent rise of meat alternatives like the Impossible Burger and Beyond Meat has made it clear that more and more diners are skipping beef and opting for meat-free burgers. But not all veggie burgers are created equal— often, they lack flavor and texture and disintegrate as soon as you pick them up. This is a list of local, hearty, house-made veggie burgers that will satisfy your burger dreams, sans meat.
Proper Burger Co.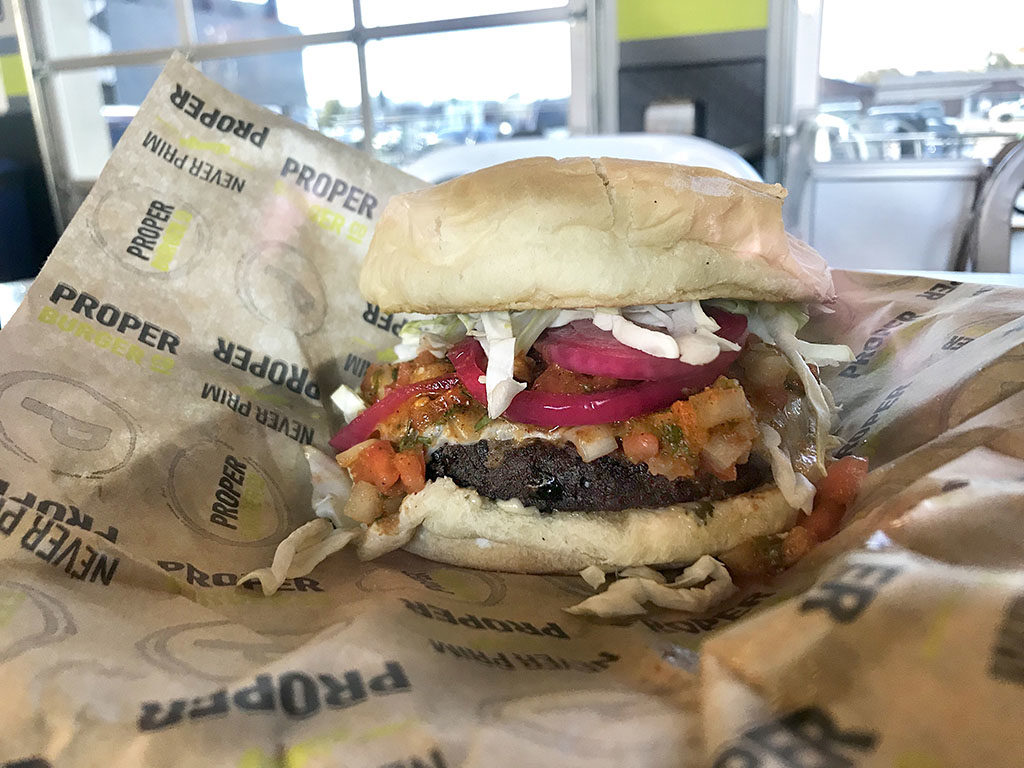 Proper Burger Co. has not one, but two excellent options for anyone looking for a meat-free burger. Their first is a classic vegetarian patty made primarily from a mixture of black beans, shredded sweet potato, and a variety of seasonings and spices.
The second is a unique grain-based vegan patty with a crispy exterior. Each patty is absolutely delicious in its own right, and the toppings make them really special. Proper's menu includes many different "styles," including two vegan options, that allow you to embellish your burger in all sorts of crazy ways. I tried the El Mariachi with the black bean patty, and the Bolywood Burger with the vegan patty. Be warned – the El Mariachi is quite spicy!
865 Main St, Salt Lake City, UT 84111
(801) 906-8604
properburgerslc.com
Squatters Pub Brewery
Squatters' has been serving and perfecting their veggie burger since 2002, and it shows. The burger is made with a well-seasoned garbanzo patty, and topped with avocado with your choice of side (I highly recommend the sweet potato fries).
Its hefty garbanzo patty also includes grains, spices, and vegetables, and can substitute for the meat in many dishes, including the staff favorite, Greek Salad. If you're looking to pair your meal with one of Squatters' many beers, the veggie burger goes well with Squatters' Juicy IPA.
147 Broadway, Salt Lake City, UT 84101
(801) 363-2739
squatters.com
Rich's Burgers N Grub
The vegetarian black bean patty at Rich's is messy and delicious. It's a smokey, slightly spicy alternative to their usual beef patty that even carnivores could enjoy. Rich's menu includes 22 different burger styles plus the option to have your patty on a salad or lettuce wrap. If you can't decide what style to get, the mac and cheese is always a great option, with griddled mac like you've never had before.
30 E Broadway, Salt Lake City, UT 84111
(801) 355-0667
richsburgersngrub.com
Wasatch Brew Pub
Wasatch Brew Pub's veggie burger is a solid option if you're looking to skip the meat. It includes a black bean patty topped with tangy roasted red pepper hummus atop a beautiful griddled brioche bun. The burger comes with your choice of several sides, but it's hard to pass up the tater tots.
2110 Highland Dr, Salt Lake City, UT 84106
(801) 783-1127
wasatchbeers.com
BGR
BGR's sweet potato and rice-based patty is a unique, sweet and smoky take on a veggie burger. It gets a huge boost from my favorite item at BGR— their mushroom "Wellington" sauce – which is a creamy and tangy menu item that may also have a future on store shelves.
1202 Wilmington Ave Ste, Salt Lake City, UT 84106
(801) 487-6301
bgrtheburgerjoint.com/locations-menus/saltlake-ut/
Honorable Mention: Trestle Tavern
Though technically more of a sandwich than a burger, I couldn't leave Trestle Tavern's veggie burger off this list. Instead of a patty, their burger features a balsamic-soaked portobello mushroom and is topped with arugula, goat cheese, romesco, and pickled onions.
1513 S 1500 E, Salt Lake City, UT 84105
(801) 532-3372
trestletavern.com
Current dining deals
The following coupons are some of the most interesting / best coupons right now. Disclosure: some links may be affiliate links, eg Groupon, Restaurant.com, and we earn a small commission from each sale.
City Brew Tour – Nearly 30% off thus four hour guided tasting and tour of Utah brews.
Este Pizza – 40% off the popular Salt Lake pizza restaurant.
Itto Sushi downtown SLC – 38% off via Groupon. Fun sushi spot.
Kaze Sushi – 30% off this brand new Japanese restaurant in downtown SLC.
Maize Tacos – 30% off this downtown SLC taco restaurant on to go orders.
Ramen Legend – Sugar House Japanese spot, coupon valid for take out or dine in.
Keep the conversation going
Want to stay on top of the SLC food scene, minute by minute, dish by dish? Here are a few other places you should follow along:
Gracie James is a student at the University of Utah with a lifelong passion for food. She loves writing about, learning about, and experiencing food in the Salt Lake City area, as well as cooking up her own creations for friends and family.
The self-labeled World's Worst Vegetarian is constantly on a mission to find delicious vegetarian food that's fit for her broke college student lifestyle, and is always looking for an escape from the nasty university cafeteria fare.
This article may contain content provided by one of our paid partners. These are some of the best businesses in Utah. For a list of all our current and past relationships see our
partnership history page
.