In the blaring heat of the summer months, everybody's constantly looking for a way to cool down. You could turn on a fan, or drink some ice water, but what's the fun in that? If you're smart, you'll use the heat as an excuse to eat delicious frozen treats. More specifically, you'll take the opportunity to enjoy the trendy, healthful treat that is the açaí bowl.
Hailing originally from Brazil, the açaí bowl is made from frozen blended açaí berries, which are considered a superfood because of their rich antioxidant content. The frozen açaí is generally blended with other fruits and served in a bowl under lots of granola and fresh fruit. The finished product is a cold, refreshing, and healthy snack or meal that will cool you down without making you feel guilty. In other words, it's the perfect summer — and fall — treat.
But how does one choose the right açaí bowl? Below is a review of some of SLC's best basic açaí bowls that will hopefully make your hunt a little bit easier.
1. Honest Eatery
Honest Eatery approaches the acai bowl in a unique way. While most places have only a couple of options to choose from on a preset menu, Honest lets you create your own bowl from start to finish. This means you get to choose from size options, various bases, granolas, fruits, drizzles, nuts, seeds, and other toppings. Their açaí base is thick with no added sugar, and serves as the perfect foundation for whichever toppings you choose. Be sure to try the delicious passion fruit mousse, and, if you're really hungry, they also serve fresh and flavorful avocado toast.
SLC | 135 Regent St Suite B, Salt Lake City, UT 84111 | (801) 532-4754
Foothill | 1400 Foothill Dr Suite 100, Salt Lake City, UT 84108 | (385) 528-1801
eatathonest.com
2. Just Organic Juice – Moon Berry Bliss
This açaí bowl from JOJ may sneak up on you. At first glance, it's just like any other açaí bowl. But upon further inspection, the Moon Berry Bliss bowl is a deliciously satisfying treat with an ultra-creamy açaí smoothie base, crunchy granola, and beautiful fresh fruit on top. It's a tasty addition to any day.  
2030 S 900 E, Salt Lake City, UT 84105
(801) 953-0112
justorganicjuice.com
3. Aubergine & Company – Inspiration Açaí
The Inspiration açaí bowl at Aubergine is an absolute classic. Although it's on the sweeter side, this bowl is full of flavor; the smoothie on the bottom is balanced well by the fresh fruit and crunchy granola on top. Pair it with their Brazilian cheese bread and you've got yourself a yummy meal. 
2122 Highland Dr, Salt Lake City, UT 84106
(801) 487-4321
aubergineandcompany.com
4. Brass Smoothies – Berry Bowl
Everything on the menu at Brass Smoothie has your health in mind. That's why their açaí bowl is packed with fruit and spinach, and topped with granola, chia seeds and hemp hearts for added fiber and vitamins. The mild bowl is also drizzled with honey for the perfect amount of sweetness.
925 E 900 S Suite 103, Salt Lake City, UT 84105
(801) 208-6542
brasssmoothies.com
5. Protein Foundry – Rio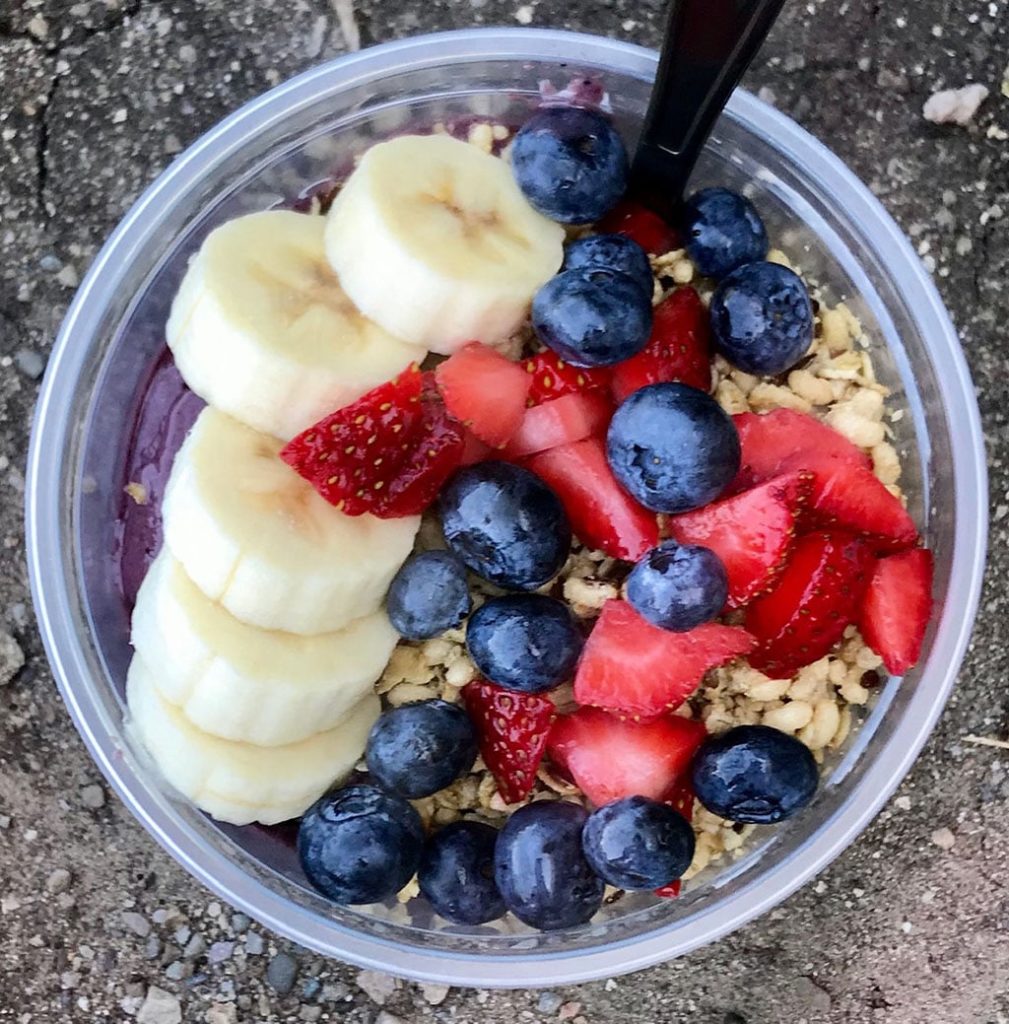 The Protein Foundry has lots of different açaí options to choose from; their six açaí bowls can be modified with added protein or toppings to fit your taste. PF's bowls contain no added sugar and come in big portions that are sure to satisfy your sweet tooth and align with a healthy lifestyle.
S Jordan | 11426 South Parkway Plaza Drive, South Jordan, 84095 | (801)-790-2256
C Heights | 6909 South 1300 East, Cottonwood Heights, 84047 | (801)-676-9573
Draper | 1101 East Draper Parkway, Draper, 84020 | (801)-727-2199
theproteinfoundry.com
6. Açaí With A Blend – Berry Me
The açaí base in Açaí With A Blend's Berry Me bowl has a uniquely thick, sorbet-like texture that is sweet with fruit, and topped with the obligatory fruit and granola. Like many of the other bowls on this list, the Berry Me bowl is vegan, minus their edition of honey on top.
1215 Wilmington Ave, Salt Lake City, UT 84106
(801) 999-1956
facebook.com/Acaibros/
7. Pulp Lifestyle Kitchen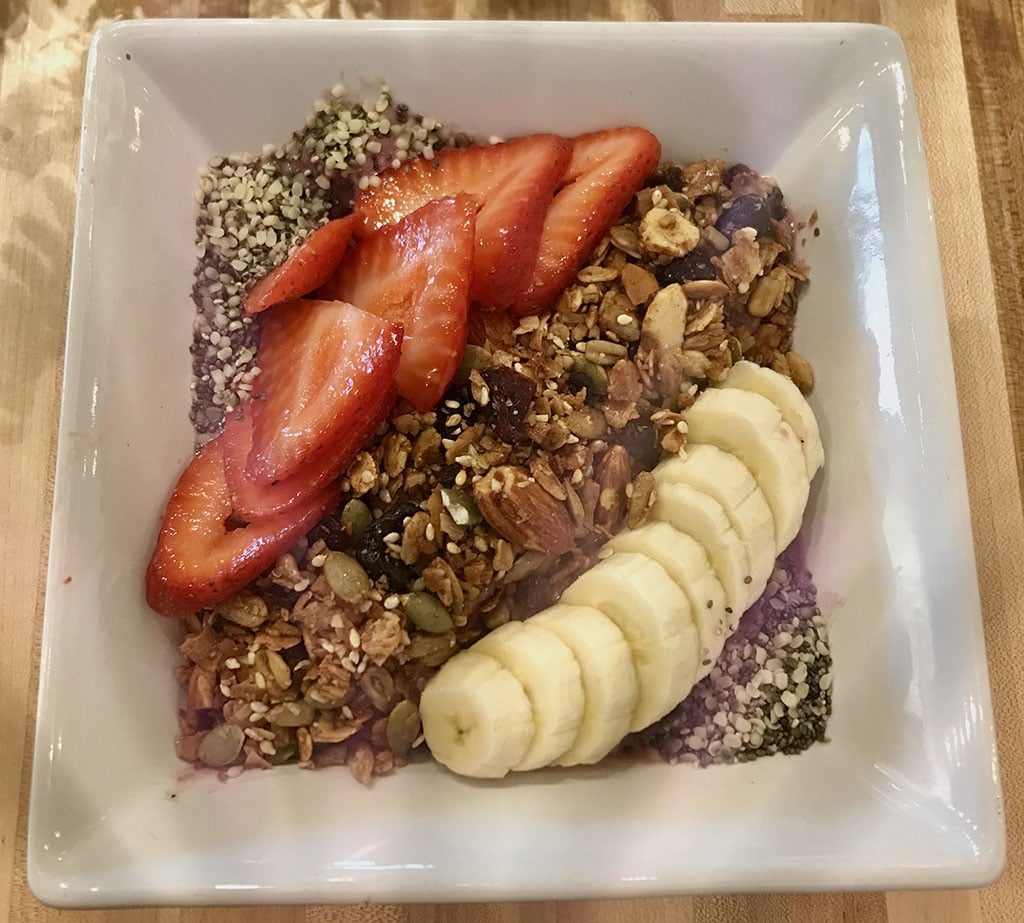 Pulp Lifestyle Kitchen is all about healthy, delicious food. In addition to an extensive menu of juices and blends, they serve two types of açaí bowl, each made using organic açaí powder. Their Origin of Species is a classic bowl made and served with the typical suspects, including house-made granola. Their other açaí bowl, the Nut Job, has many of the same ingredients, but stars peanut butter and raw cacao. Both are great options to cool you down and keep you healthy.
49 Gallivan Ave, Salt Lake City, UT 84111
(801) 456-2513
pulplifestylekitchen.com
Gracie James is a student at the University of Utah with a lifelong passion for food. She loves writing about, learning about, and experiencing food in the Salt Lake City area, as well as cooking up her own creations for friends and family.
The self-labeled World's Worst Vegetarian is constantly on a mission to find delicious vegetarian food that's fit for her broke college student lifestyle, and is always looking for an escape from the nasty university cafeteria fare.
This article may contain content provided by one of our paid partners. These are some of the best businesses in Utah. For a list of all our current and past relationships see our
partnership history page
.