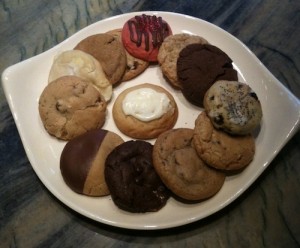 Ruby Snap
RubySnap (formerly My Dough Girl) is hands down my favorite cookie spot in Salt Lake. There are several close seconds in town, but the gems produced here definitely hit all my cookie buttons (one of them even has melted lemonheads in it!). They are big, chewy, and so full of flavor your first bite can induce swooning.
At $2.50 a pop they are a bit pricey, but the prices do go down when you buy more (and why wouldn't you?). That said, you really don't need to eat more than one (or two) to get your cookie fix. I like to buy a selection and then cut them into quarters to share with friends. That way I don't miss out on any of the great flavors.
I've also heard RubySnap has frozen cookie dough you can buy, but I'm going to stay in a state of denial about that. I don't need any more opportunities to increase my consumption of these divine little darlings.
RubySnap
770 South 300 West, Salt Lake City, UT (801) 834-6111
www.rubysnap.com
This article may contain content provided by one of our paid partners. These are some of the best businesses in Utah. For a list of all our current and past relationships see our
partnership history page
.