Fall menu preview
A long time ago, my mother took me to lunch for my 10th birthday at a restaurant in Holladay called The Heather. We got all dressed up and in true tea-party style sat outside under a canopy of old trees and ate salads and little cakes, and to top it all off got to watch bunnies frolic all over the place. What more could a 10 year old girl want?
Even now, when I drive by the building that once housed The Heather (which is now the restaurant Tuscany), I feel a real sense of nostalgia even though it looks nothing like the old place. However, if you drive just a little farther down Holladay Boulevard and end up at the other restaurant in the area – Franck's – that cozy, comfortable, and yet fancy feeling I remember so well can still be found (and no I don't consider The Cotton Bottom a restaurant – we can fight about the garlic burgers later).
Named after the chef, Franck's is certainly picturesque, but the rabbits you'll find will probably be on your plate. Bunnies aside though, I recently had the good fortune to be invited to sample some of the chef's creations. Since this particular dinner was served as a tasting menu, I can't precisely review the current late-summer menu, but I think some of the dishes we ate say a lot about Franck's overall view of food.
Here's what we had:
An Amuse Bouche: Pan Seared Foie Gras on Apple and Olive Oil Compote and a Wafer of Toasted Brioche topped with Foie Gras Ice Cream. Okay, I have to admit I'd never had Foie Gras before this. I've had many opportunities to have it, but just hadn't quite made up my mind about it yet. I think we can all admit it's a complicated food, but I wasn't about to refuse the first thing I was served. I will also admit that I liked it. The only word I can use to describe the ice cream was savory, and the Foie itself was interestingly crunchy when I expected more of a pâté texture.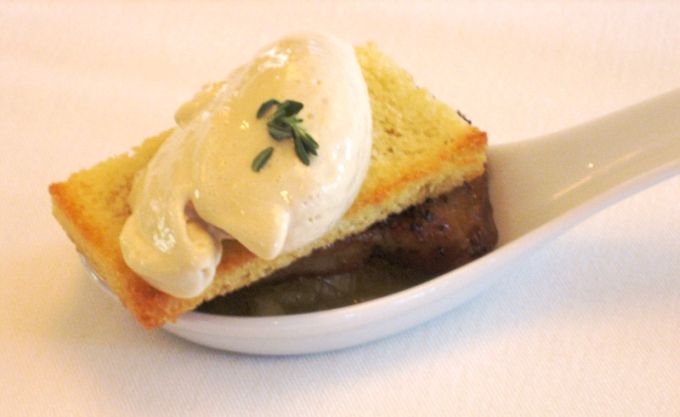 Next we had Shiitake Mushroom and Violet Soup with Pickled Blueberries. My palate was definitely not sophisticated enough to pick out the violets, but the soup was very good. Rich, creamy but not in a cream sense, and the pickling of the blueberries took away the perfect amount of their acidity so they really added a sweet unexpected hit. I could have had 4 bowls of this and been a happy camper.
 

Next was the Couscous "Cassoulet," Parmesan Crusted Lamb Breast Medallion and Poached Lobster Tail served with a Miso Lychee Sauce, followed by Compressed Sesame Marinated Watermelon stacked with Cauliflower Gratin and Sous-Vide Wagyu Hanger Steak served with a Watermelon Hollandaise. I really loved all the sauces here and the sous-vide steak was (pardon the cliché) like butter. My favorite thing was probably the couscous though. Big pearls of yum.

 
For Dessert: Warm Chocolate Tart with Sea Salt and Espresso Chai Ice Cream, a Chocolate Bombe which was Peanut Butter and Chocolate Mousse on top of Chocolate Ganache with a Coconut and Hazelnut Crust, and finally Layered Passion Fruit and Hazelnut Ganache. I have to admit I was already totally full by the time we got here, and although I did try everything these different desserts all fused into one chocolatey note for me. I will say the passion fruit ganache was amazing.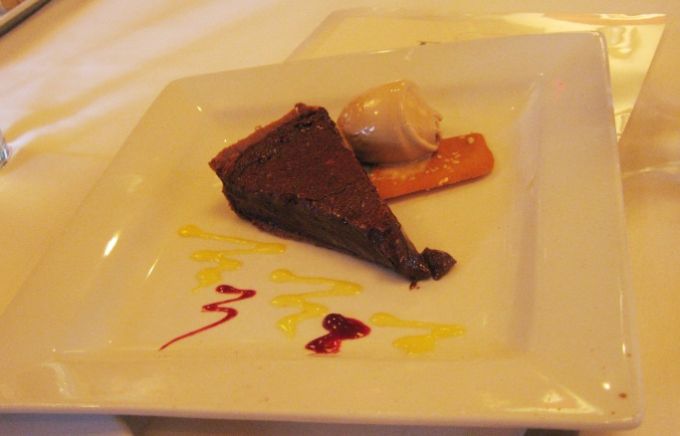 As you can see from this list, the dishes we were presented with were beautiful and complex. What impressed me most though is that you could actually taste the myriad flavors. I could really taste the watermelon in the hollandaise, and the miso and lychee in the sauce on the lobster, and the combinations were unexpected and delicious.
I also think the regular menu shows a curiousness and attention to detail that we don't see in every restaurant in Salt Lake. For example, take the much lauded Coconut & Lemongrass Fried Chicken that is usually on the menu. Franck takes something that can be very regular and turns it into something unique. Unique and tasty.
That's what I'll take away from my meal at Franck's, and what will keep me coming back. The food here is an agreeable blend of familiar and fancy. But I still won't eat rabbit.
Franck's
6263 Holladay Blvd, Holladay, UT 84121
(801) 274-6264
Website: www.francksfood.com
GSLC review: Francks's restaurant review
This article may contain content provided by one of our paid partners. These are some of the best businesses in Utah. For a list of all our current and past relationships see our
partnership history page
.