Vegan dining is increasingly popular the nation over, but in Salt Lake city, this ethical approach to dining is huge! There are more options around town than you can shake a chick'n at, and we've got a complete list of the very best options. Everything from sweet treats to fine dining, and all vegan friendly!
100% vegan dining
All Chay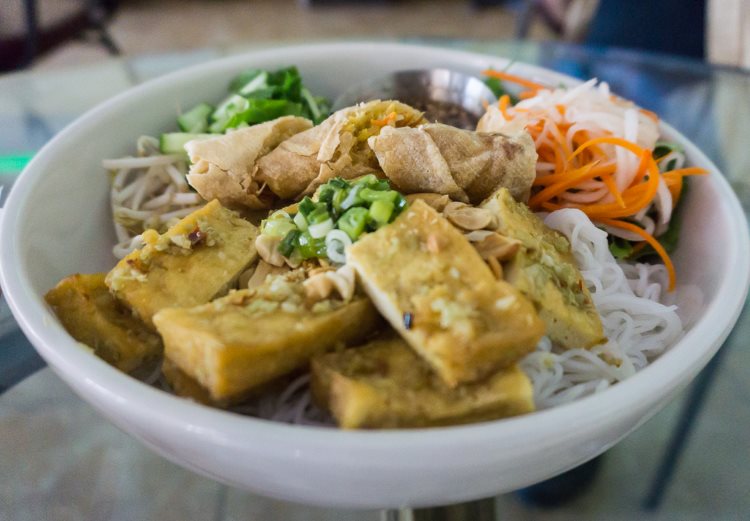 This West side Vietnamese restaurant is exclusively vegan, there's not even a bottle of fish sauce in sight. The mom and pop business is modest but offers a full gamut of Vietnamese classics: noodle and rice dishes, banh mi, even vegan friendly pho. You can find the full All Chay menu on our sister site.
1264 W 500 N, Salt Lake City, UT 84116
(801) 521-4789
City Cakes & Cafe
Offering cakes, cupcakes, a full espresso bar and cafe menu this completely vegan bakery also specializes in gluten free treats as well. The baked goods are made daily from scratch and the team (who can you watch in action) make professionally decorated cakes for all occasions. Ask about other dietary requirements too!
1000 South Main St. Salt Lake City, UT 84101
(801) 359-2239
citycakescafe.com
Cuppa
Need a vegan option in Ogden? How about one that's open seven days a week and open late most nights? Cuppa has got you covered! This 100% vegan cafe and tea shop is open till 11 p .m. Mon-Sat and even open Sunday till 7 p.m. too.
550 25th St, Ogden, UT 84401
(385) 298-5744
cuppaogden.com
Falafel Tree
A food truck that specializes in this fabulous vegan friendly, Middle Eastern treat. The truck is the work of chef Abby and entrepreneurs Tyler and Janalee Hinkson. The former is a native Egyptian with seasoned experience having helped open over 22 restaurants in multiple countries around the world.
Lil Lotus
Located in the heart of Sugar House is this small restaurant that offers a big menu of comfort food classics – each one 100% plant based The menu includes items like burgers, nachos, tacos, fry bread, Mac and cheese and lots more – basically all those soul satisfying dishes you crave.
2223 South Highland Drive #E5, Salt Lake City, UT 84106
(801) 906-0637
facebook.com/Lil-Lotus-2010316369215302/
Passion Flour Patisserie
A classic French patisserie with one major difference to virtually all the others; yep you guessed it, everything here is completely vegan friendly. The sweet and savory creations here are legit – chef and owner Jessica Davies learned her trade at the prestigious French Pastry School in Chicago Illinois before updating traditional recipes to be vegan friendly.
165 900 S, Salt Lake City, UT 84111
(385) 242-7040
passionflourslc.com
Sage's Cafe
Since 1998 chef and owner Ian Brandt has proudly flown the flag for vegan dining in SLC. At Sage's Brandt aims for a more refunded, elegant dining experience, but check out his other two businesses below (Vertical Diner/Pizza) for something differen.
368 E 100 S, Salt Lake City, UT 84111
(801) 322-3790
sagescafe.com
Seasons Plant Based Bistro
A new vegan restaurant for Salt Lake City in 2017. The menu skews toward classic Italian dishes – with a vegan twist of course. Think hearty plates such as Spaghetti Pomodoro & Meatballs, Pappardelle Bolognese and Braised mushroom risotto.
1370 S. State Street, Salt Lake City, Utah, 84115
(385) 267-1922
seasonsslc.com
Veggie House
Another new vegan restaurant for 2017, this time, Asian cuisine. At Veggie House you'll find a mixed Asian menu mainly focused on Thai and Chinese dishes. The restaurant offers its entrees with a choice of tofu, soy chicken, soy beef or soy shrimp.
52 E 1700 S, Salt Lake City, Utah, 84115
​(801) 282-8686
veggiehouseut.com
Vegan Bowl
The sister restaurant to All Chay over in West Jordan. Ran by the same family as All Chay the menu will be familiar to patrons of the original. Vegan Bowl offers a 100% vegan friendly Vietnamese menu featuring staples such as banh mi, pho, rice and noodle dishes.
8672 South Redwood Road, West Jordan, Utah
(801) 692-7237
facebook.com/pg/VietnameseVeganBowl
Vertical Diner
The third restaurant restaurant in Brandt's trio of vegan eateries. At Vertical Diner, Brandt re-imagines the classic American diner, through the lens of vegan sensibilities of course. That means you get to order up a range of guilt free, comfort foods like biscuits and gravy!
234 W 900 S, Salt Lake City, UT 84101
(801) 484-8378
facebook.com/verticaldinerSLC
Zest
Casey Staker's downtown Salt Lake City restaurant was formerly a mix of vegetarian and vegan items, but as of 2018 the menu is now 100% vegan friendly. It makes sense of course, Zest has long been famous for their gourmet vegan cheeses, that continually cause, "wtf, this is vegan, seriously?" moments.
275 S 200 W, Salt Lake City, UT 84101
(801) 433-0589
zestslc.com
Separate vegan menu
The following restaurants are not primarily vegan restaurants, but do offer dedicated vegan menus in addition to their non vegan menus. Typically these restaurants also prep and cook their vegan menu completely separately too, but do check with each business directly.
Mi Ranchito Grill – This Mexican restaurant in South Salt Lake not only offers a separate vegan menu but also has a vegan buffet every Friday night plus all-you-can-eat vegan tacos on Wednesdays!
Piper Down – A separate vegan menu is available at this Irish themed bar on State Street. Try the Baja Chick'n tacos with an order of sweet potato waffle fries, and wash the lot down with something from the extensive bar menu.
Ice Haus – Owned by the same folks as Piper Down, the German themed cuisine at this bar is also offered on a separate vegan menu. Vegan poutine with vegan wings anyone? Menu.
Harp and Hound – Another bar with a comprehensive vegan menu – this time over in Ogden. The vibe is fun and relaxed with dishes like the Funk-A-Delphia Miss-Steak and the Mother Clucker Sandwich lining the menu.
The Pie Pizzeria – The popular pizza parlor with locations over the valley offers six different vegan pizzas as of the start of 2018. As well as this, there are vegan buffalo wings and ranch too.
Sonora Grill – Also in Ogden, and again, offering a full vegan menu. Enchiladas, burritos, tacos, quesadillas and more – all offered 100% vegan.
Stanza – One of SLC's best Italian restaurants offers a great Vegan menu, with multiple options. Perfect for date night. See the full menu on our sister site, SLC Menu.
Vegan options
The following restaurants have vegan options on their regular dining menus. As restaurants not focused squarely on vegan dining you might want to ask more detailed queries about ingredients, prep and execution of dishes:
Aubergine & Company. Several options on a menu with salad, soups, wraps, acai etc.
Blue Plate Diner. Classic breakfast joint with several options including burritos, chilli and more.
Bombay House – Indian cuisine with multiple locations.
Blue Nile – Ethiopian dining close to downtown SLC.
Cafe Solstice – Light dining cafe located inside The Dancing Crane.
Cafe Shambala – Located in the Avenues, Tibetan dining with vegetarian and vegan dishes.
Chabaar Beyond Thai – Midvale based eatery that mixes Thai and American cuisine.
Curry In A Hurry – State Street classic offering wallet friendly Indian dishes to go.
Este Pizzeria – Sugar House pizza joint.
Even Stevens Sandwiches – Multiple locations around Utah, buy a sandwich, they'll donate another to charity.
Himalayan Kitchen – Downtown Indian and Nepalese eatery.
Gerlach's – Food truck that slings vegan dogs primarily, has options for meat eaters too.
House of Tibet – Salt Lake city Tibetan restaurant.
The Kathmandu – Locations downtown and Sugar House, our favorite Indian and Nepalese eating in SLC.
Lazy Dayz Cafe
Long Life Veggie House – One of the very first and most long lived meat free businesses in Utah, over in Millcreek.
Lucky Slice Pizza – Several vegan options.
Mahider – Ethiopian restaurant and markert in SLC.
Mano Thai Diner – South Salt Lake Thai cuisine, formerly Bon Appe Thai.
Mazza Middle Eastern Cuisine – Wonderful Middle Eastern cuisine served at two locations: 9th and 9th & 15th and 15th.
O' Falafel Etc. – Sugar House restaurant that focuses on falafel plus a few other Middle Eastern specialties.
Oh Mai – Vietnamese banh mi sandwiches at several locations around the valley.
Omar's Rawtopia – East bench based raw food eatery.
The Pie Pizzeria – Multiple locations, an SLC pizza institution.
Proper Burger Company – Grab a burger then head to Proper Pub next door for a house brew.
Rice King Restaurant – Chinese restaurant in Provo, ask for the vegetarian menu.
The Rose Establishment – Several vegan breakfast selections.
Royal India – Sandy based Indian restaurant.
Sugar House Coffee – Coffee, Sugar House.
Trolley Wing Co. – Beer and wings, two locations in Sugar House and Midvale.
Tsunami – Popular sushi restaurant with four locations around the valley.
Zest Kitchen – 100% vegetarian restaurant downtown, lots of vegan items.
Are we missing anyone? Let us know in the comments so we can add them to the list!
Our sponsors and this page
This page may contain information about one of our sponsors. We only work with the very best businesses in the state, and routinely turn down offers to work with businesses we don't enjoy. If we can't hand on heart recommend them - they can't be a sponsor.
At this time we have the following sponosrs: BTG, Caffe Molise, The Dough Miner, Downtown Alliance, Feldman's Deli, Flanker, Garage On Beck, Hearth And Hill, Hill's Kitchen, Kao Thai, Kin Sen Asian Noodle Bar, Kyoto, LemonShark Poke, Log Haven, Oasis Cafe, Pirate O's Gourmet Market, SLC Eatery, Squatter's Downtown Salt Lake City, Stoneground Italian Kitchen, Urban Hill, Wasatch Brew Pub Sugar House, Whiskey Street, White Horse.
I encourage you to Google any of our sponsors and see the stellar reviews on multiple sites that they enjoy. For a list of all our current and past relationships see our partnership history page.