One of life's little secrets: solo dining can be a ton of fun. While some might dread the idea of dining alone – from time to time we're huge fans of our own company. Order an extra glass of wine, just eat appetizers, skip dessert – you're answerable only to yourself.
Of course, the restaurant environment and setup can make a huge difference to your solo adventures. The following restaurants are those we love to enjoy a meal at by ourselves.
Flanker Kitchen
Located on the North side of The Gateway, Flanker Kitchen is a mix of food, fun and great drinks. This 21+ only spot covers some 17,500 square feet and boasts a kitchen of upscale bar classics, supported by a range of local beers, wine and cocktails by master mixologist Francesco Lafranconi. Flanker also offers hands on entertainment too – everything from karaoke through to sports simulators and classic pub games too. The bar is littered with TV's and a huge big screen, and always has the big game or fight to watch.
6 N Rio Grande St, Salt Lake City, UT 84101
(801) 683-7070
flankerslc.com
Franklin Avenue
The latest effort from the Bourbon Group is more buzzy bar than white tablecloth space – but the cooking is some of the best around. The menu is a globe trotting affair taking in South East Asian inspiration, while executing fab European classics. Case in point, check out their gemelli pasta loaded with Dungeness crab, the plate is brought to life with a hit of Japanese togarashi.
231 S Edison St, Salt Lake City, UT 84111
(385) 831-7560
franklinaveslc.com
Copper Common
The cozy Copper Common offers a big city feel in a snug spot, just next door to sister restaurant Copper Onion. Some of the best mixologists in town work her, meaning your visit should definitely start with a look over their current cocktail menu. If the weather is amenable, absolutely get a seat on the covered patio along Broadway. Copper Common is the antithesis of that loud, obnoxious barn of a bar that you're looking to avoid.
11 E Broadway Suite 190, Salt Lake City, UT 84111
(801) 355-0543
coppercommon.com
Current Fish And Oyster
Some of Salt lake city's finest seafood and a perfect choice for solo dining. A solid wine list and stellar shellfish means whiling away an afternoon here a perfect pick; a glass of something light and crips, a plate of oysters, and a light breeze is
279 E 300 S, Salt Lake City, UT 84111
(801) 326-3474
currentfishandoyster.com
Mar | Muntanya
Those dining by themselves can head to bar – the team at this new Spanish themed joint will take great care of you. Located in the snazzy Hyatt Regency in the heart of downtown Salt Lake City – my recommendation is to start with a glass of cava while considering the interesting menu.
170 S W Temple St, Salt Lake City, UT 84101
mar-muntanya.com
Avenues Proper
Just North of the downtown SLC area is this neighborhood brewpub. When you enter take a left and head into the 21+ only bar area. Grab a seat at the counter and check out what's cooking. The bar area menu offers all the options from the regular restaurant area, plus late night eats too. Also, the intimate space makes it easy to strike up a conversation with other patrons.
Sushi Groove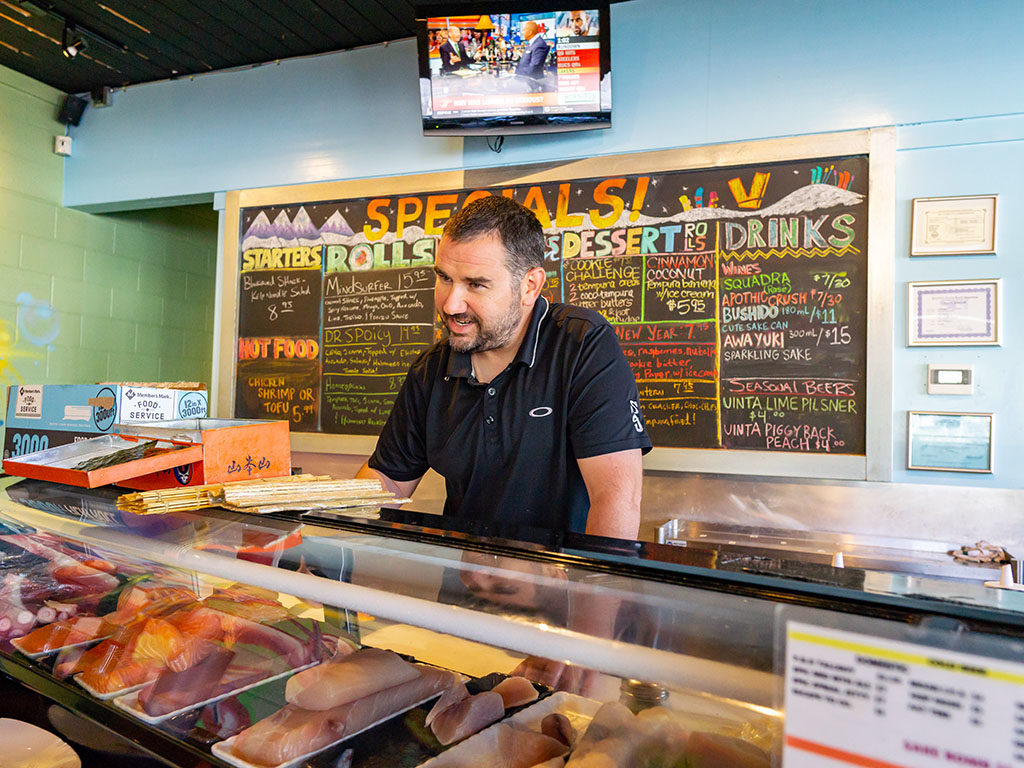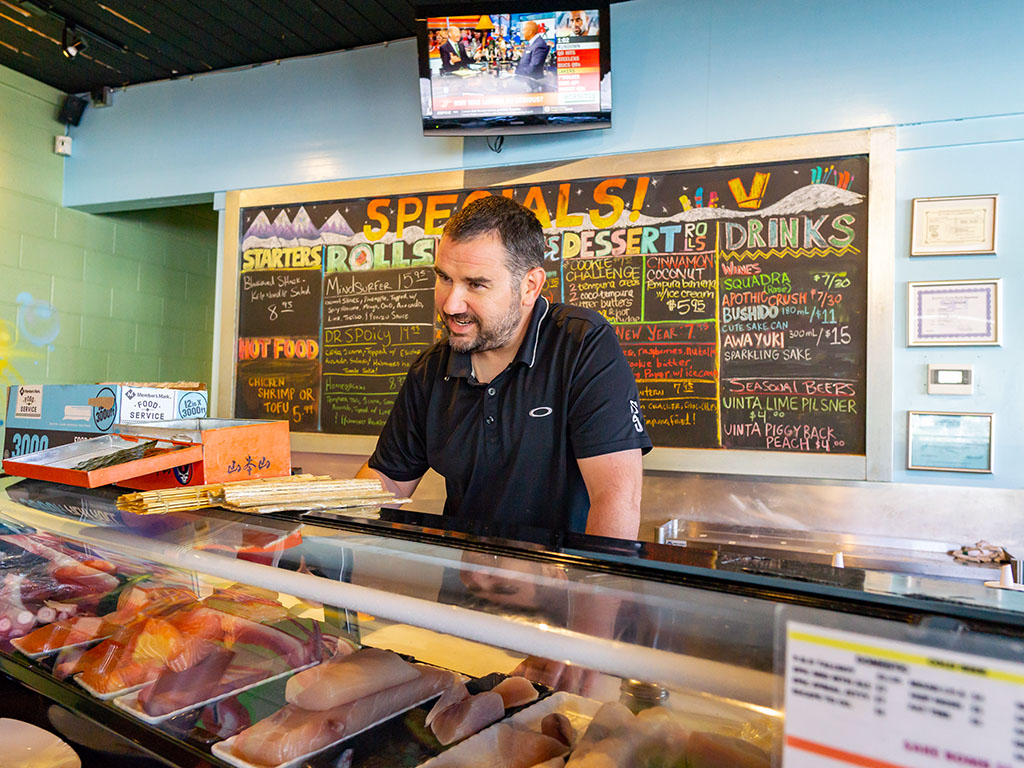 This sushi restaurant on the edge of Sugar House is a must go if you're in the area. Solo diners will want to head to the sushi counter where the affable Sushi Groove team are always happy to chat about everything from sports to what's fresh and fun on the menu that day. Prices are fair, the vibe is hip and there's a decent selection of wine, beer and sake.
Whiskey Street / White Horse
You'll find these two sister business (White Horse, Whiskey Street) practically next door to each other on downtown SLC's Main Street. Both are built around expansive and inviting counter dining setups. Pull up a pew, grab a menu and cast your eyes over the huge selection of beer, wine, ciders and spirits. Both restaurants offer some of the best cooking in the city and are always lively spaces seven days of the week.
The Angry Korean
If you happen to be in the South Jordan area, this modern Korean restaurant is a must visit. A long counter looks into the busy kitchen and the menu pops with flavor. Check out their American-Korean fusion dishes such as a wonderful Philly cheesesteak loaded with beef bulgogi.
Copper Onion
Ryan Lowder's downtown Copper Onion has been delighting locals and visitors alike for nearly a decade. The bustling new American bistro sports a well appointed kitchen counter area in the heart of the dining room. Watch the talented chefs cook up their signature dishes such as pitch perfect pasta or one of the best burgers in town.
Kyoto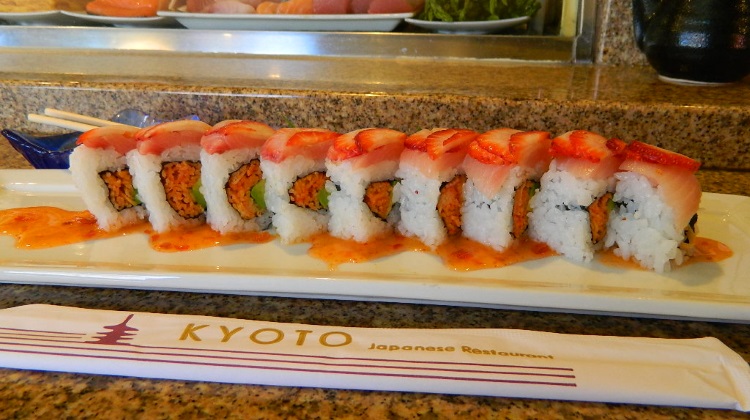 Another fine Japanese restaurant with a stellar sushi bar area. One of the oldest restaurants in the city, the menu offers classic Japanese cooking as well as nigiri, maki and sushi.
Our sponsors and this page
This page may contain information about one of our sponsors. We only work with the very best businesses in the state, and routinely turn down offers to work with businesses we don't enjoy. If we can't hand on heart recommend them - they can't be a sponsor.
At this time we have the following sponosrs: BTG, Caffe Molise, The Dough Miner, Downtown Alliance, Feldman's Deli, Flanker, Garage On Beck, Hearth And Hill, Hill's Kitchen, Kao Thai, Kin Sen Asian Noodle Bar, Kyoto, LemonShark Poke, Log Haven, Oasis Cafe, Pirate O's Gourmet Market, SLC Eatery, Squatter's Downtown Salt Lake City, Stoneground Italian Kitchen, Urban Hill, Wasatch Brew Pub Sugar House, Whiskey Street, White Horse.
I encourage you to Google any of our sponsors and see the stellar reviews on multiple sites that they enjoy. For a list of all our current and past relationships see our partnership history page.