Is it kebob or kebab? Or are you looking for a skewer or souvlaki? Whatever – it's undeniable that roasted and grilled meats are some of the most delicious dishes out there. Here's our favorite spots for skewered, grilled and roasted proteins in Utah. We cover all the bases, Iranian to Greek to Lebanese.
1 – Zeitoon Cafe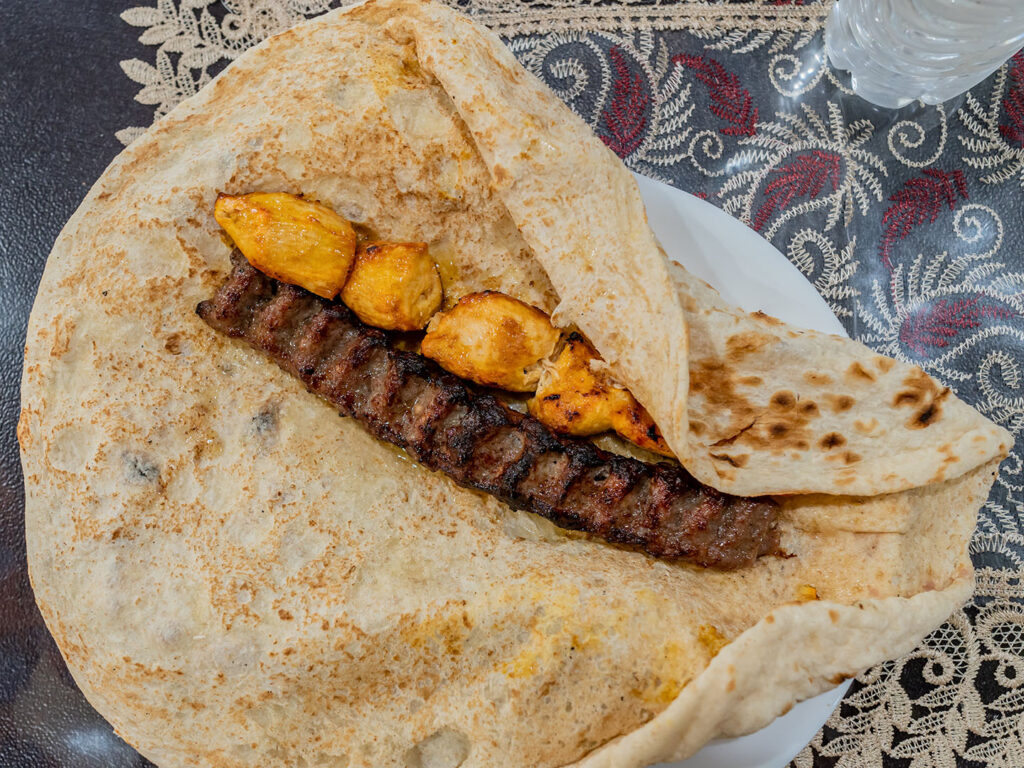 Pictured above are the chicken and koobideh kebob from Zeitoon Cafe in Midvale. In particular the ground beef kabob is spectacular – perhaps the very best version of this dish we've tasted in Utah. The meat is impeccably seasoned and mixed with a luxurious amount of rich fattiness. The result is a pliable, almost sausage like texture. While the saffron rice is stellar, if ordered with bread, the kabobs are served lovingly wrapped – soaking up all that glorious juice for bonus points.
751 Fort Union Blvd, Midvale, UT 84047
(801) 569-2004
zeitoon-market.business.site
2 – Best Chicken And Ribs
This mom and pop restaurant in South Salt Lake absolutely has the best chicken in town as far as we're concerned. The chicken is never anything but juicy and packed with bright flavor. That rice too, I've been trying to perfect that for years myself…
111 E 2700 S, Salt Lake City, UT 84115
(801) 466-8311
slcmenu.com/2014/07/19/best-chicken-and-ribs-menu/
3 – Shahrazad Market
One of the best Middle Eastern spots in Utah, and home to fabulous kebobs. It's hard to beat the price/value of Shahrazad, a visit will always leave you happy, smiling and full.
1615 2100 S, Salt Lake City, UT 84119
(801) 975-9977
shahrazadslc.com
4 – Kabob Stop
When you have Kabob right there in your name above the door – you better have the goods when it comes to the grilled stuff. Thankfully this South Salt Lake spot does, cooking up five different styles of kabob from red hued chicken tikka through a spicy, flattened patty, chapli kabob/
291 E 3300 S, South Salt Lake, UT 84115
(801) 466-9144
5 – Beirut Cafe
A fun Lebanese spot in the center of the SL valley and home to a diverse menu of mouth watering dishes. A mixed grill plate includes a trio of kebobs, you'll probably want to add on their awesome kibbeh as well.
1326 E 5600 S, Salt Lake City, UT 84121
(801) 679-1688
beirutcafe.com
6 – Zaferan Cafe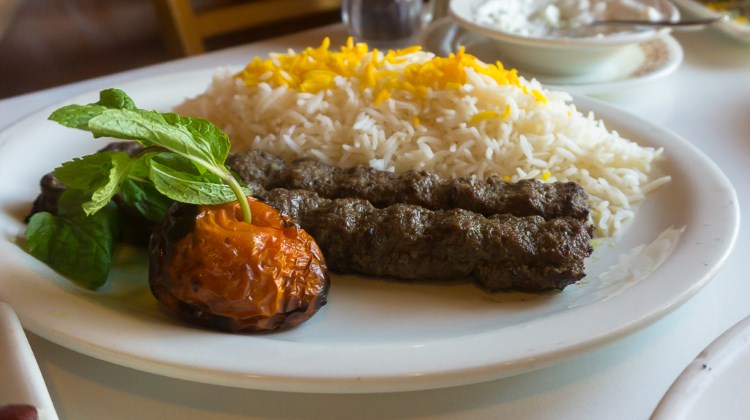 If there's a better spot for koobideh in Utah, I've not found it yet. Plump and juicy kabobs made form seasoned ground beef, then grilled to sizzling perfection. The rice here is first class too.
7835 Highland Dr, Cottonwood Heights, UT 84121
(801) 944-6234
zaferancafe.com
7 – Afghan Kitchen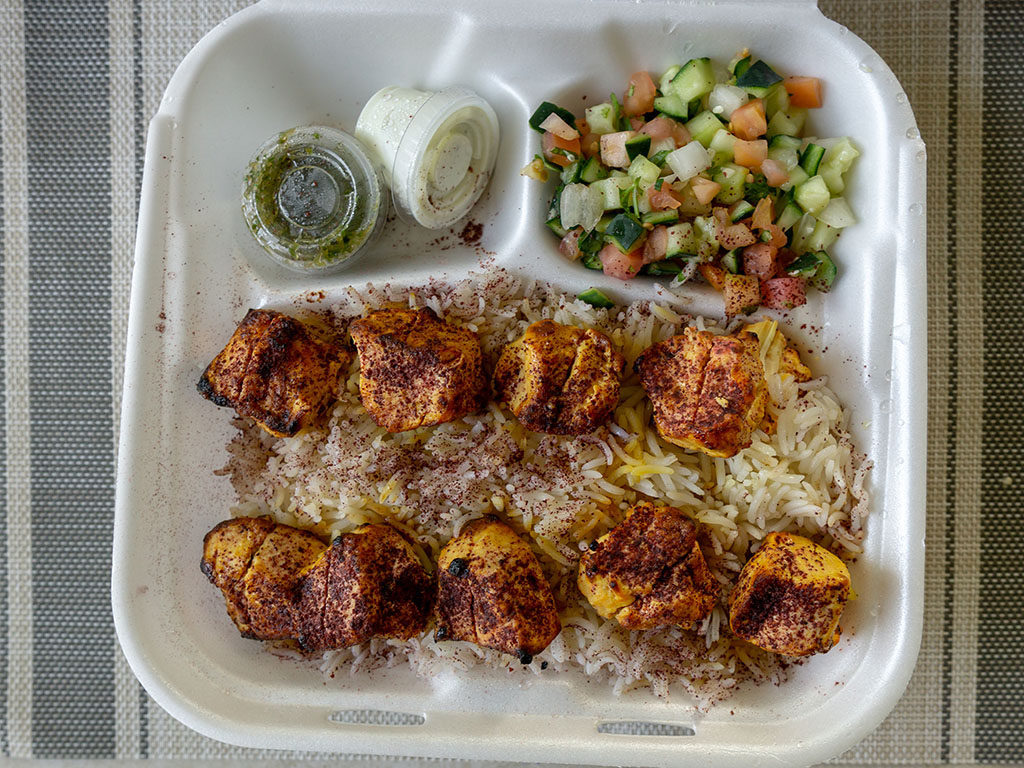 Home to SLC's best Afghan food – which means some great grilled chicken!
3142 S Main St, South Salt Lake, UT 84115
(385) 229-4155
afghan-kitchen.com
8 – Mano Thai Diner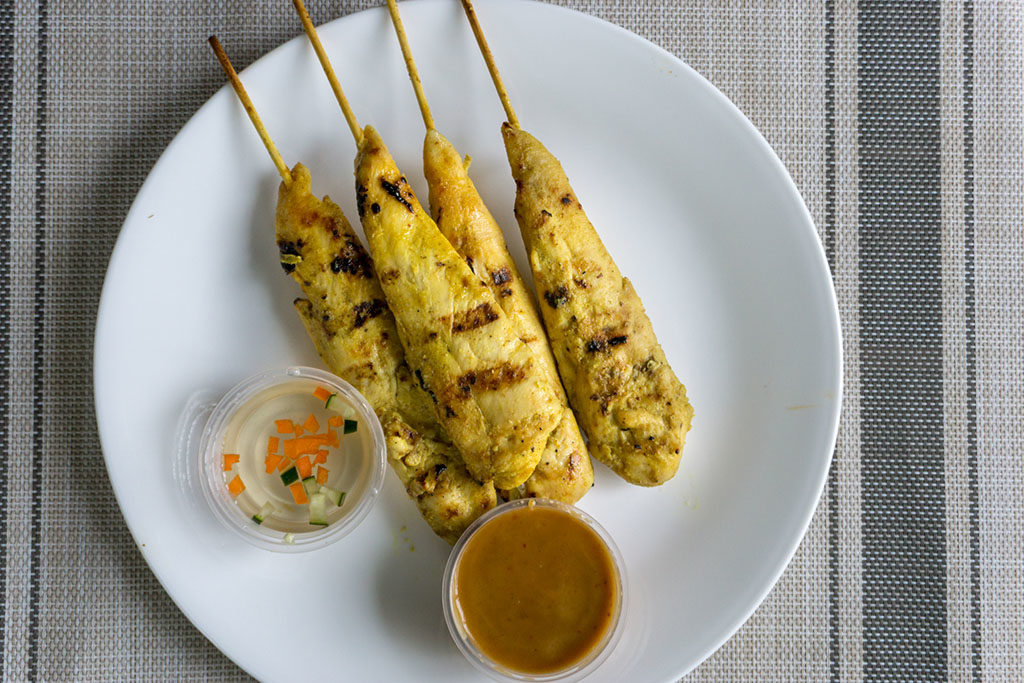 We'd be remiss to not include the Thai classic satay. This South Salt Lake spot cooks up beautifully juicy chicken satay, replete with that smoky kiss from the grill. Bonus points – the restaurant has a drive through for grab and go dinners.
41 W 3300 S, South Salt Lake, UT 84115
(801) 485-1209
manothai.com
9 – Sumac Cafe
2578 Bengal Blvd, Cottonwood Heights, UT 84121
(801) 733-4444
10 – Saffron Valley
Our sponsors and this page
This page may contain information about one of our sponsors. We only work with the very best businesses in the state, and routinely turn down offers to work with businesses we don't enjoy. If we can't hand on heart recommend them - they can't be a sponsor.
At this time we have the following sponosrs: Avenues Proper, BGR Sugar House, BTG, Caffe Molise, Craft by Proper, The Dough Miner, Downtown Alliance, Feldman's Deli, Flanker, Garage On Beck, Hearth And Hill, Hill's Kitchen, Kao Thai, Kin Sen Asian Noodle Bar, Kyoto, Laziz Kitchen, Log Haven, Oasis Cafe, Pirate O's Gourmet Market, Proper Brewing, Proper Burger, Scion Cider Bar, SLC Eatery, Squatter's Downtown Salt Lake City, Stoneground Italian Kitchen, Urban Hill, Wasatch Brew Pub Sugar House, Whiskey Street, White Horse.
I encourage you to Google any of our sponsors and see the stellar reviews on multiple sites that they enjoy. For a list of all our current and past relationships see our partnership history page.