December 2018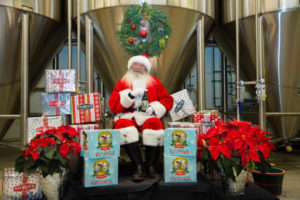 Beer. Santa. Gifts. I know I'm sold at least. Head to Red Rock Brewery on Saturday December 8th (1-4 p.m.) for their fourth annual Santa Visit. Admission is free and kids and pets are both welcomed. Red Rock beer will be flowing ($5) and tunes will be playing. Bring a donation for the Candy Cane Corner – their wish list can be found HERE. As well as all that there'll be games, food trucks and treats for the kids too.…
Find out more »
May 2019
bier de mars launch Red Rock will release Bier de Mars and White Rainbow and have other beers available at this May 4th release event. Beers are $5. It runs from 11 to 5. 21+ only. A few other items: Dog friendlyFood truck is Lucky sliceSaturday Cycles will be on hand for mobile repairsCostume contestLIVE MUSIC! Moodlite Band.  
Find out more »
+ Export Events
This site is 100% free of intrusive third party ads through the generous headline sponsorship by The Gateway - SLC's premier entertainment destination.
This article may contain content provided by one of our Partners or Sponsors. These are some of the best businesses in Utah. The current businesses we work with include:
Alamexo
,
The Angry Korean
,
Avenues Proper
,
BGR
,
Bourbon House
,
BTG Wine Bar
,
Caffe Molise
,
Cafe Niche
,
Campos Coffee
,
Current Fish & Oyster
,
Desert Edge Pub
,
Kyoto
,
Feldman's Deli
,
Log Haven
,
Oasis Cafe
,
Proper Burger
,
Proper Brewing Co
,
Saffron Valley
,
SLC Eatery
,
Stanza Italian Bistro
,
Taqueria 27
,
Vine Lore
,
Whiskey Street
,
White Horse
.
For a list of all our past relationships and timelines, please see our historical partnerships page.