While many overlook chicken as a boring choice, we reckon they're just not looking at the menu close enough. The following are our favorite chicken dishes in Salt Lake City. From the budget friendly through to the fine dining and beyond.
Best chicken deal – Best Chicken And Ribs
Best Chicken And Ribs in South Salt Lake City has the best chicken kabobs in the city, and then some. It doesn't hurt that the prices are unfailingly reasonable too. The skewers come ala carte or as a single/double entree. For for the rice as your side and thank us later.
11 E 2700 S, Salt Lake City, UT 84115
(801) 466-8311
slcmenu.com/2014/07/19/best-chicken-and-ribs-menu/
Curry Fried Chicken
This fast casual restaurant offers a unique dish you won't find anywhere else in Utah –
and maybe surrounding states. Curry. Fried. Chicken. Take a moment to let that sink in. While you can find more common Indian dishes on the menu the star here is the lush chicken. This would be award winning fried chicken in its own right, but coupled with the lip smacking heat and flavour from Indian spices, this is a taste senstation like no other.
660 State St, Salt Lake City, UT 84111
(801) 924-9188
facebook.com/cfcslc/
Best roast chicken – Contigo Peru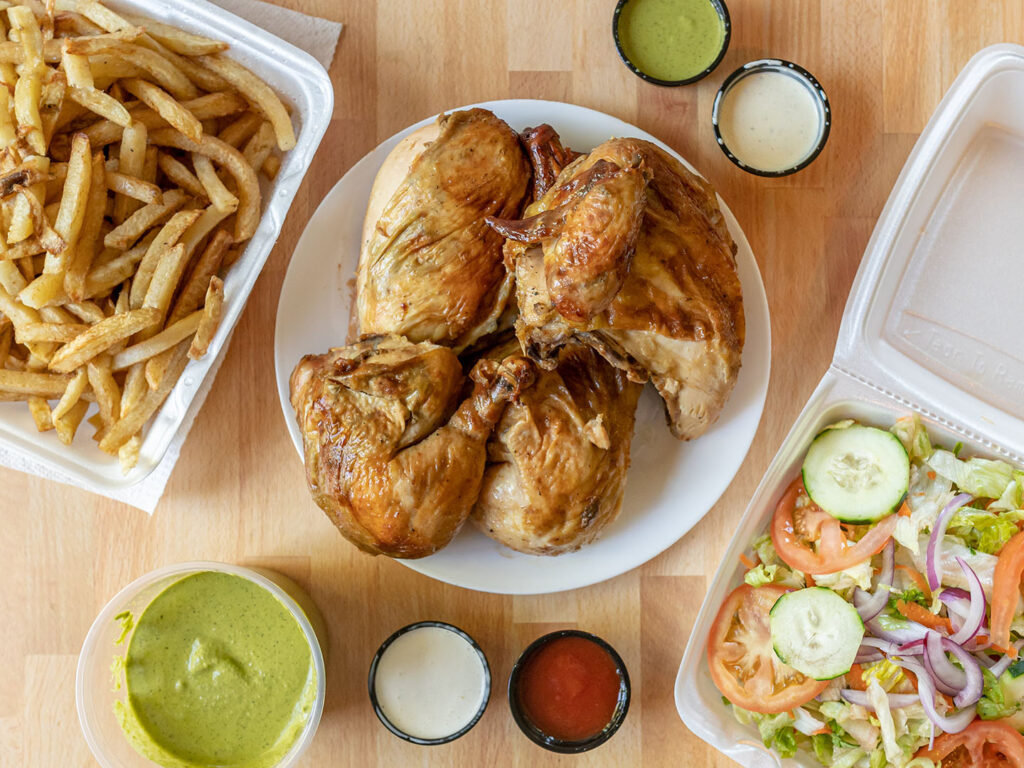 Pollo a la brasa – a staple of Peruvian cuisine – aka roast chicken of the very best kind. Marinated in a blend of herbs and spices then flame grilled, Peruvian style roast chicken might be the very best. Pictured is the whole bird from Contigo Peru in West Valley City enough to feed a family. For thirty bucks it also comes with a raft of sauces, salad and choice of side.
3411 S Redwood Rd, West Valley City, UT 84119
(801) 906-0934
contigoperu-ut.com
Best fancy fried chicken – HSL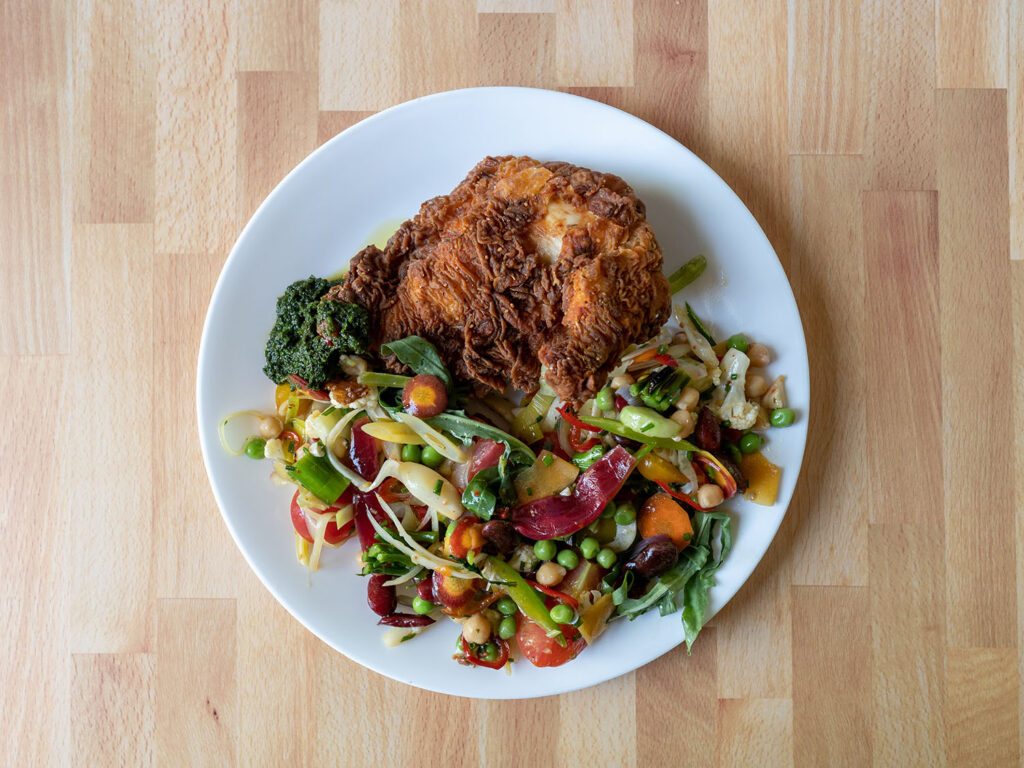 Downtown SLC's HSL is one of the best fine dining spots in the city, and it also happens to be home to some riotously good fried chicken too. The chicken features on the ever evolving menu year round, with the side dish served, reflecting the season.
418 E 200 S, Salt Lake City, UT 84111
(801) 539-9999
hslrestaurant.com
Spiciest chicken – Tuk Tuk's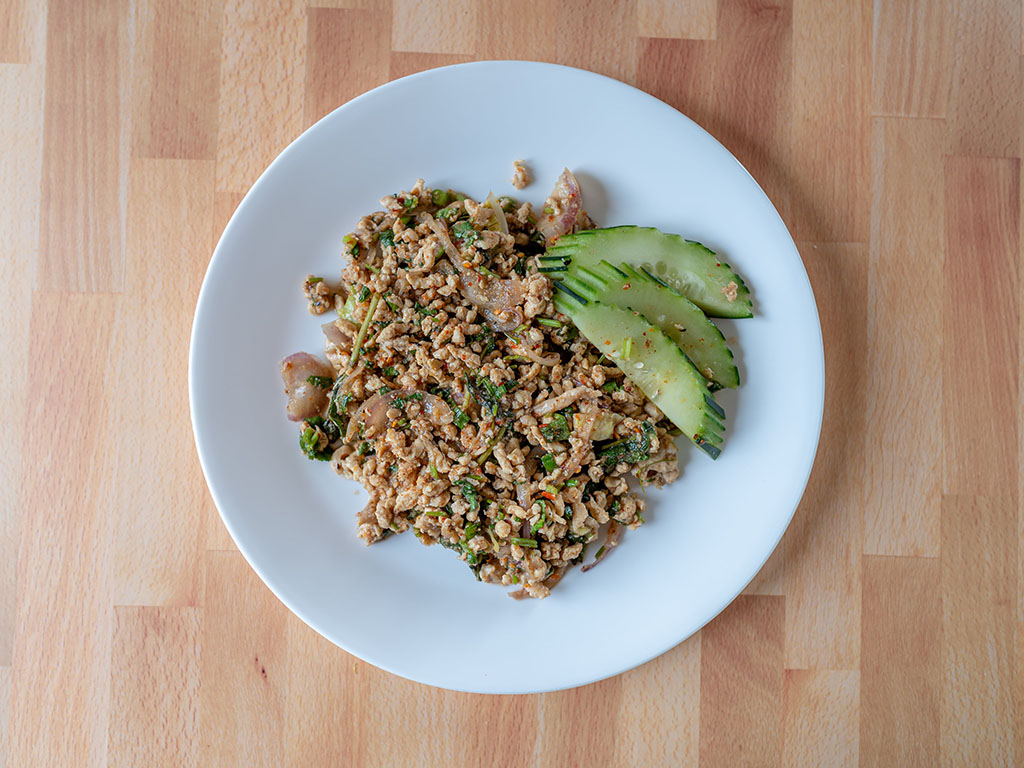 When it comes to spice, West Valley based Tuk Tuk's don't hold back. The Thai and Lao eatery is a spice lovers dream, with their larb salad being a particularly flame throwing delight. Ground chicken is cooked with gobs of chili, garlic, mint, lime leaves and lime juice. The result will light up every one of your senses.
2222 W 3500 S b7, West Valley City, UT 84119
(385) 227-8347
slcmenu.com/2019/08/02/tuk-tuks-menu/
Best chicken fried rice – New Golden Dragon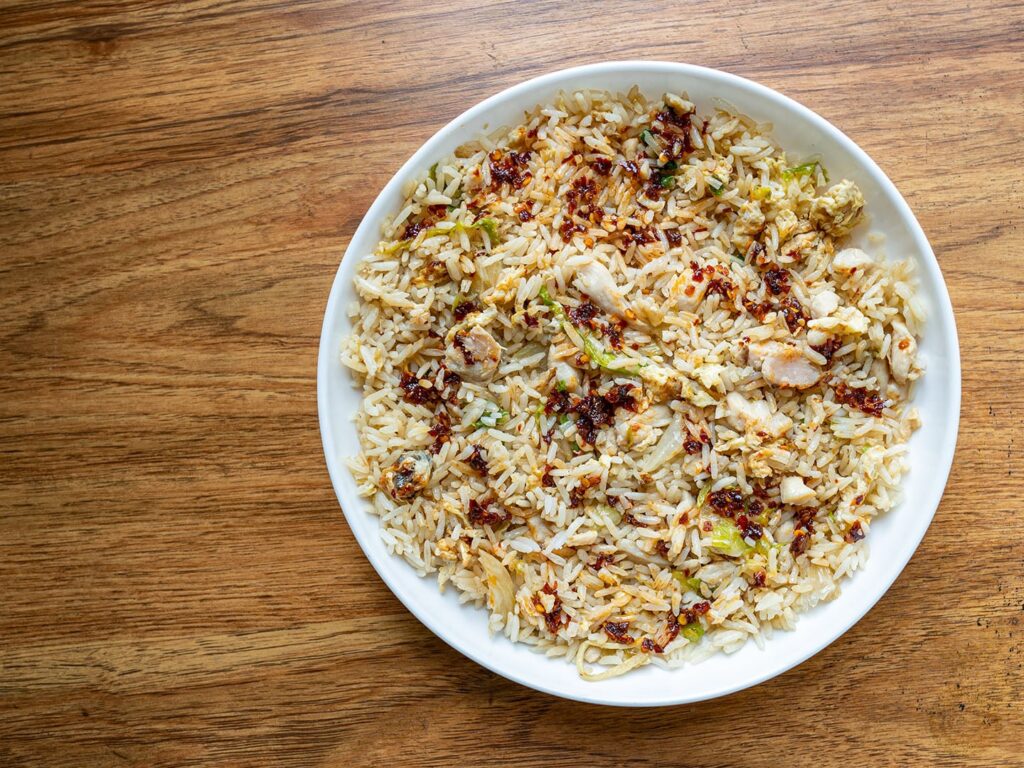 This Cantonese classic is a step above the boring old take out of old. A very solid chicken fried rice is gussied up with chunks of salty, fermented fish. It adds a funky, salty smack to one of our favorite comfort food dishes around. Add your own chili oil (as we have above) to take it a step further.
1716 S State St, Salt Lake City, UT 84115
(801) 487-9888
newgoldendragonut.com
Best chicken sandwich – Crack Shack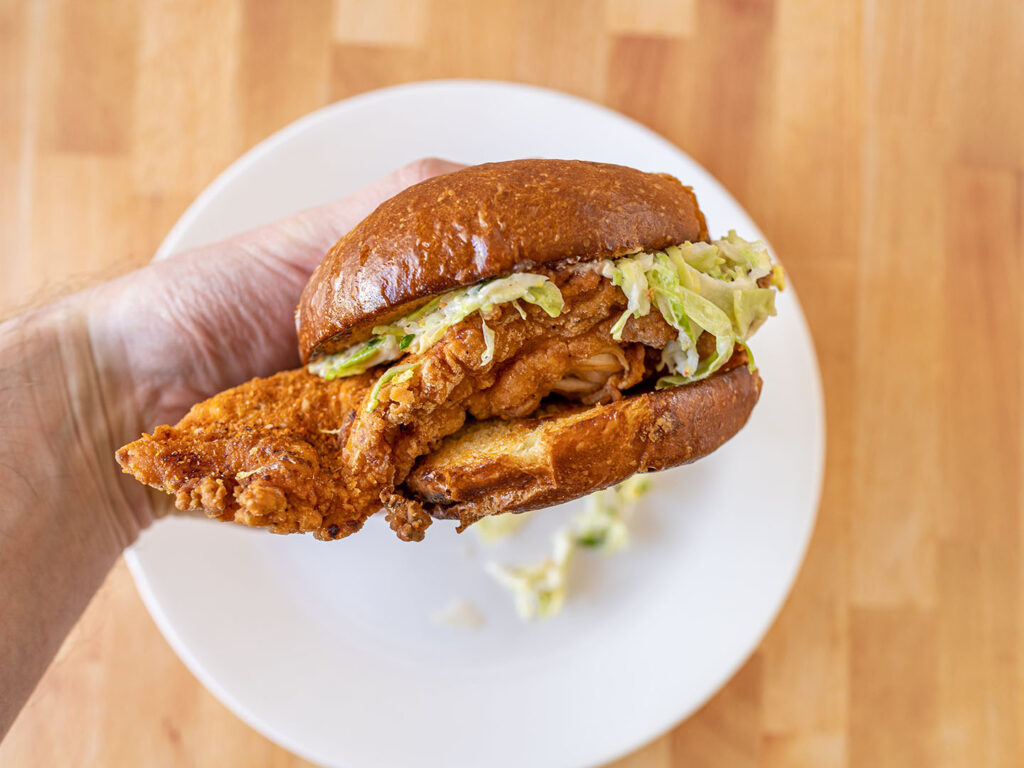 This San Diego chain has two locations in Utah, one run the 9th and 9th and also Lehi. Both offer a range of fabulous fried chicken sandwiches, all using the chain's impeccable Jidori chicken from California. Picture is the Coop Deville layering pickled fresno chilies, pickles, lime mayo, napa cabbage on a rich brioche bun.
912 E 900 S, Salt Lake City, UT 84105
(385) 715-0250
crackshack.com
Best chicken and waffles – Mr Charlie's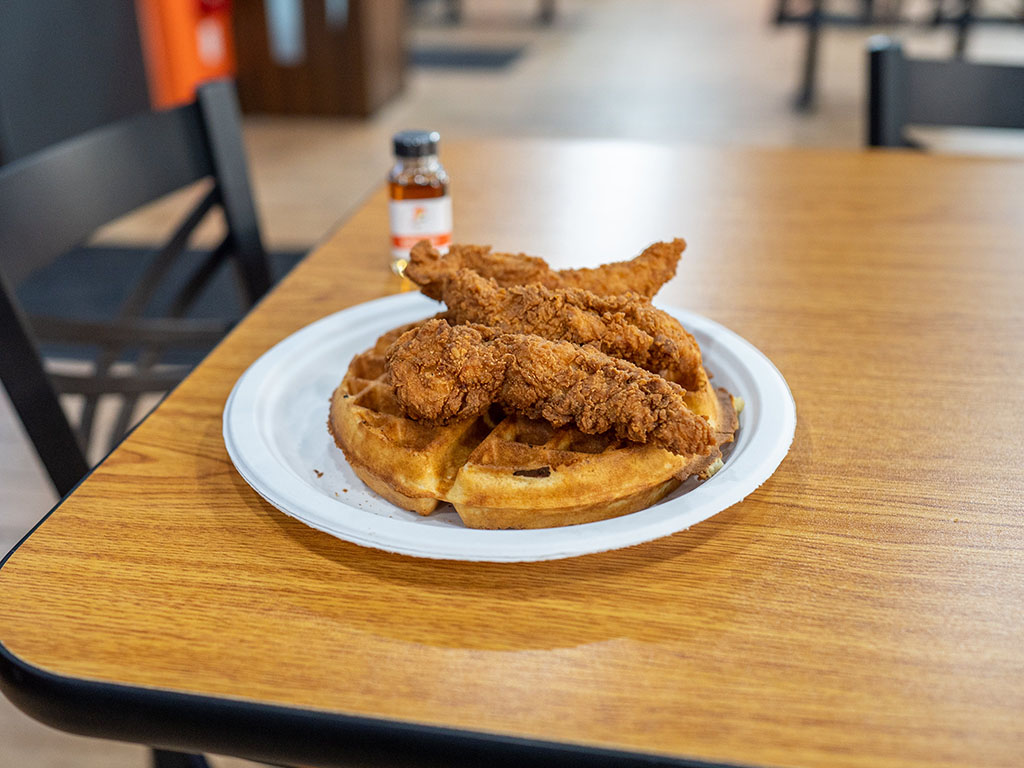 A relatively newer addition to the menu of Mr Charlie's (SLC and Draper) is the chicken and waffle – that dreamy mix of sweet and savory. The dish uses Charlie's top class chicken fingers, huge and juicy pieces – over a sweet waffle. The chain have a number of sauces to finish the plate with, not least a special monthly release to keep things interesting.
554 W 4500 S, Murray, UT 84123 | (801) 803-9486
592 E 12300 S C, Draper, UT 84020 | (801) 938-9561
mrcharlies.com
Maybe also check out
Maybe we can tempt you to something else delicious while you're here? Check out these other detailed guides, some of the most popular pages on our website:
Hi, I'm Stuart, nice to meet you!  I'm the founder, writer and wrangler at Gastronomic SLC.  I'm a multiple-award winning journalist and have written in myopic detail about the Salt Lake City  dining scene for the better part of seventeen years.
I've worked extensively with multiple local publications from Visit Salt Lake to Salt Lake Magazine, not least helped to consult on national TV.   Pause those credits, yep, that's me! I'm also a former restaurant critic of more than five years, working for the Salt Lake Tribune.    I'm largely fueled by a critical obsession with rice, alliteration and the use of big words I don't understand.   What they're saying about me: "Not inaccurate", "I thought he was older", "I don't share his feelings".
Want to know more? This is why I am the way I am.
Our sponsors and this page
This page may contain information about one of our sponsors. We only work with the very best businesses in the state, and routinely turn down offers to work with businesses we don't enjoy. If we can't hand on heart recommend them - they can't be a sponsor.
At this time we have the following sponosrs: BTG, Caffe Molise, The Dough Miner, Downtown Alliance, Feldman's Deli, Flanker, Garage On Beck, Hearth And Hill, Hill's Kitchen, Kao Thai, Kin Sen Asian Noodle Bar, Kyoto, LemonShark Poke, Log Haven, Oasis Cafe, Pirate O's Gourmet Market, SLC Eatery, Squatter's Downtown Salt Lake City, Stoneground Italian Kitchen, Urban Hill, Wasatch Brew Pub Sugar House, Whiskey Street, White Horse.
I encourage you to Google any of our sponsors and see the stellar reviews on multiple sites that they enjoy. For a list of all our current and past relationships see our partnership history page.